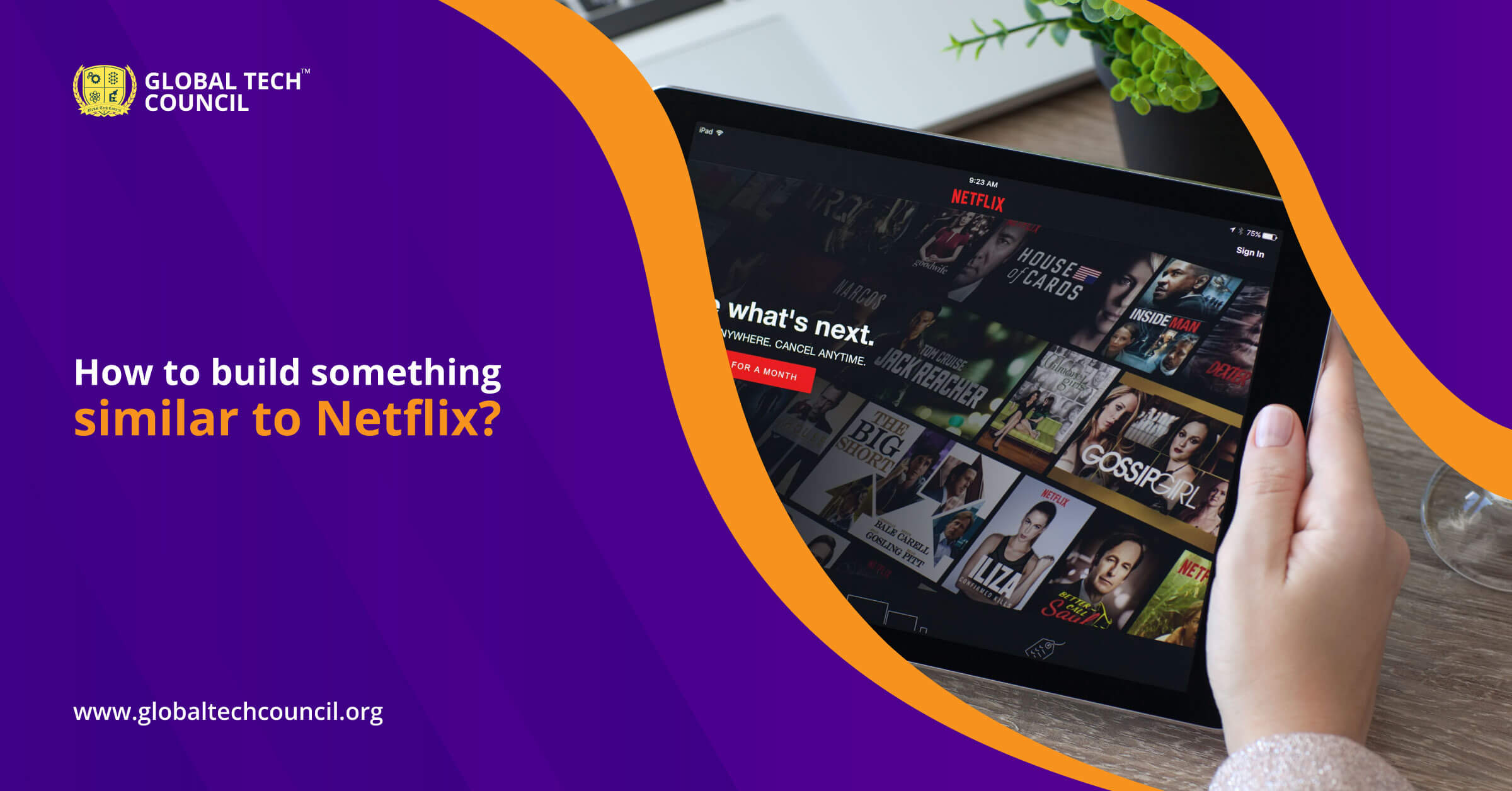 Those days are long gone when siblings used to argue over the television remote and what to watch next? Now the time is changing rapidly. With the evolution of Machine Learning and Artificial Intelligence, we can scroll down more than a thousand TV shows and movies anytime and anywhere and from any medium. Moreover, it is easy to entertain ourselves without browsing through numerous TV channels to find something interesting.
Let's read on to figure out, How to build something similar to Netflix. Although, this quick guide can diligently guide you to start your data science training with the best data science certification including best online certificate programs for data science, machine learning and much more from Global Tech Council.
Table of contents
History of Netflix
The Product roadmap of Netflix
Unique Selling Points of Netflix
3.1 Versatility.
3.2 Content is the king.
3.3 No ads
3.4 Machine Learning algorithm
4. Science behind Netflix
4.1 Data Speed
4.2 Cloud hosting and computing architecture
5. Security
1. History of Netflix
A leading video streaming service of this digital stage started as the world's first DVD online rental service, now the worldwide count for paid subscribers of Netflix is 195.15 million but you still can't figure out the main reason behind the popularity of Netflix, how could a DVD rental company be so popular?
It all started in April 1998 when this web giant launched a web-page. Besides, Netflix started to use the 'Monthly Subscription' model and gradually they started focussing on online streaming services. In 2008, this whirlwind of changes was finally introduced to the world as the video streaming service that more than 50% of the US uses today.
Today, the company has established an appealing caliber among all audiences for its original web series, classics, and movies.
The Product roadmap of Netflix
A roadmap is not only about how you manage to monetize your business, it is also about targeting the needs of your audience with the unique selling points (USPs) that other competitors of the niche can't serve better than you. Besides, the product roadmap should be capable of taking your business to profits in the future.
Similarly, the road map of Netflix works on a subscription type business model expanded in three plans, that helps the company to achieve sustainable growth in the future with global expansion.
Unique Selling Points (USPs) of Netflix
There are 4 intuitive Unique Selling Points (USPs) that one must know before to build something similar to Netflix, such as:
Versatility.
The structure of Netflix is so dynamic that anyone can access it on numerous platforms whether it be a PC or laptop, Smart Tv, Android or an iPhone, Gaming console, Set-top box, etc. You can either use browsers, tablets, and other devices to navigate through your favorite videos.
Content is the king.
Netflix offers a dynamic range of video content that starts with exclusive web shows and especially the in-house web shows which other video streaming services lag.
No ads.
Netflix pushes ads only to members that use the free account. There are no ads for a premium subscription user because Netflix understands how annoying it could be when an ad or pop-up appears on the screen while you're in the middle of a favorite show. In this way, No ads as a Unique Selling Point (USP) insists the free account users to subscribe to Premium services at lower prices.
Machine learning algorithm.
Netflix provides a never-ending list of in-house Tv shows, movies, and a lot of video content for online streaming. The Machine learning algorithm analyses your real-time events to recommend relevant content and bring more customer acquisition to the platform. Gradually people from non technical background can start their career today with our best in class machine learning certification courses.
4. Science behind Netflix
When you have to build something similar to Netflix, performance is a crucial aspect to provide stability to stream such a huge variety of on-demand videos. For your video streaming application to perform well, you'll have to optimize the following performance parameters:
4.1 Data speed
The better the internet speed, the better is the video quality, in a similar way the speed of your internet connection is a must to stream standard quality videos and to meet the needs of this advanced 4g generation your data connection speed must be faster enough to broadcast the video content in SD, HD, 3D or 4K quality.
To understand that in a better way, let's go through the cloud hosting and computing architecture of Netflix.
4.2 Cloud hosting and computing architecture
If you're building something huge like Netflix, you'll have to keep a huge inventory of video content in the database. Here are the advantages of using cloud platforms for a video streaming application:
The structure of Cloud hosting platforms is enormous enough to keep a large amount of data.
These platforms provide a faster user interface to access the videos quickly.
A video streaming platform like Netflix works from the core of complex architecture. As the app usage grows, the complexity of its algorithm increases proportionally. Hence, you need to start from scratch to avoid complex server clashes.
5. Security
The episode leak of "Game of Thrones" on HBO is a good example to understand the importance of content protection from unwanted malware and viruses that could compromise the entire device of a customer. You'll have to consider the following points for a secured video streaming service:
Real-time monitoring of network background and content inventory to safeguard the damage that server failure could cause.
The feature of Domain restriction is necessary to prevent the use of a source code on another platform or website.
The geographical restriction is an enhanced feature that prohibits the broadcasting of video content on other locations.
Watermarks can prohibit other illegal sources that may threaten the privacy of your video content. Although, watermarking will always highlight the rights to your content.
Conclusion
Since 1997, Netflix has gone through a whirlwind of changes and now it has become the leading video streaming service provider in the world. Gradually, the subscription-based product roadmap is helping the company to bring more engagements and continuous growth.You can start your machine learning course today with Global Tech Council and especially if you are from a non technical background then check out our exclusive course of machine learning for beginners with a machine learning certification that could help you to build something similar to Netflix.