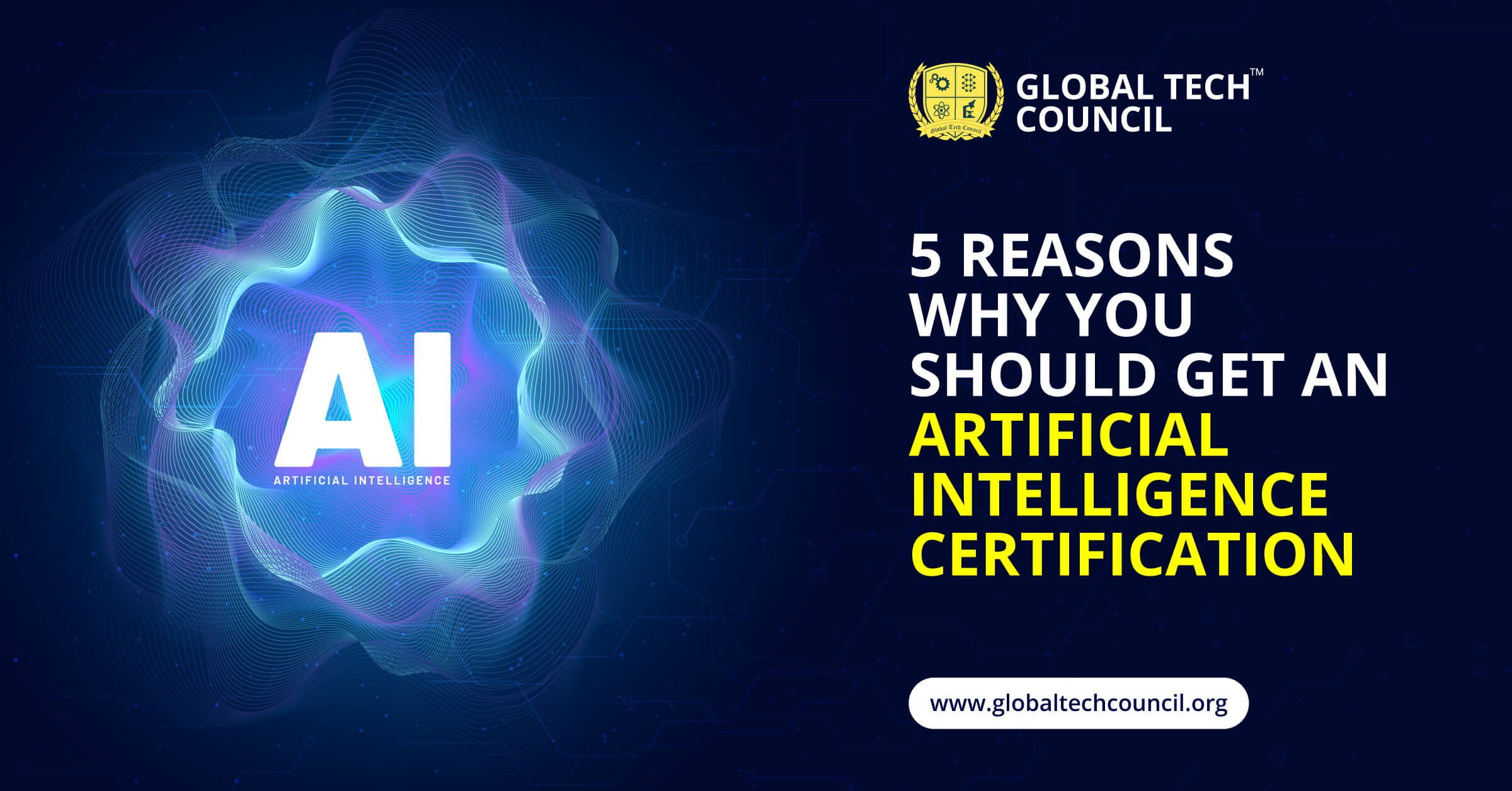 Thinking of getting a career boost but not sure about the benefits of an Artificial Intelligence certification? You've come to the right place as we intend to change that.
Learning of Blog
Introduction
What is Artificial Intelligence?
Reasons to get a Certification in Artificial Intelligence
Introduction
Artificial Intelligence (AI) is the hottest word in recent times as it has created a lot of buzz in the IT industry. People who are not from a technical background have also shown interest in learning the basics of AI. Well, why shouldn't it be so? After all, AI is believed to have the potential of changing our daily lives. After all, AI is believed to have the potential of changing our daily lives. Thus, it is one of the most promising careers. Now is the perfect time to get professional Artificial Intelligence training from a reputed source.
Before we move onto the reasons to get an Artificial Intelligence certification, let's try to understand the basics of AI.
What is Artificial Intelligence?
Artificial Intelligence (AI) is a subset of computer science that concentrates on making machines intelligent such that they react like humans. It is a continuous process of analyzing the human brain and its activities to build intelligent machines. Experts say that following are the goals of AI:
Logical Reasoning – Artificial Intelligence enables machines to perform tasks similar to the human brain and sometimes perform even better than human intelligence. For example, there have been instances where an AI has outperformed reputed chess players.
Natural Language Processing – One of the most common objectives of AI is the ability to understand the language and nuances of humans. This includes different languages, accents, voice-types, etc. Apple's Siri is one such example.
Planning – This area of AI empowers systems to pre-determine and execute goals and objectives. A classic example of this is self-driving cars.
Reasons to get a Certification in Artificial Intelligence
According to Gartner, there will be an increase of almost 40% in AI projects by leading organizations around the world in 2020. Let's have a look at the top benefits of becoming a Certified Artificial Intelligence Expert.
Growth in demand – It is believed that the demand for AI and related technologies will increase exponentially in the coming years. Companies will leverage AI to create better solutions and will also use AI for customized internal solutions. Naturally, the demand for AI will see growth in future.
Also, it is also believed that there are more AI vacancies than people searching for AI jobs. That's why you should opt for an artificial intelligence training course without having second thoughts.
Better chances of an interview – Getting an AI certification increases your chances of getting an interview call drastically, as you will have all the required skills that a company is looking for. Also, there are high chances that other candidates might not have an AI certification; making you a rare find.
AI can be used in almost every sector – Almost every industry is running behind AI and automation, making it one of the most crucial skills to learn. After becoming an Artificial Intelligence expert, doors of multiple career opportunities in different industries will open for you quickly. Most individuals prefer learning different components of AI such as ML, Deep Learning, Natural Language Processing to excel in their careers.
Industries looking for individuals with certification in Artificial Intelligence include automobile, smartphone, IT, healthcare, music, and the like.
High Salary – AI is still in its infancy and there is a high demand for talented AI engineers. Most reputed companies pay huge money to talented AI developers; an AI engineer in the USA can make around $130,000 annually.
Opting for an AI certification will be your first step towards earning more.
Unconventional career path – AI was built to reduce human effort in daily monotonous and boring tasks. It means that AI will decrease human jobs but it also means that it will create new job opportunities for talented individuals. Below are a few AI job roles:
AI Developer – This role involves building software products which employ AI and ML.
ML Researcher – This involves experimenting with methods for the betterment of present algorithms.
Data Analyst – This involves improving the systems to process larger data sets and learning from them.
Conclusion
This was all about AI and the benefits of AI certificate programs. You must have realized that AI is in high demand and there are plenty of job opportunities in the current and future market. Big companies are aiming to hire more and more professionals with AI certification as AI is set to become a part of our daily lives. You can earn an AI certification from the Global Tech Council or any other trusted source.