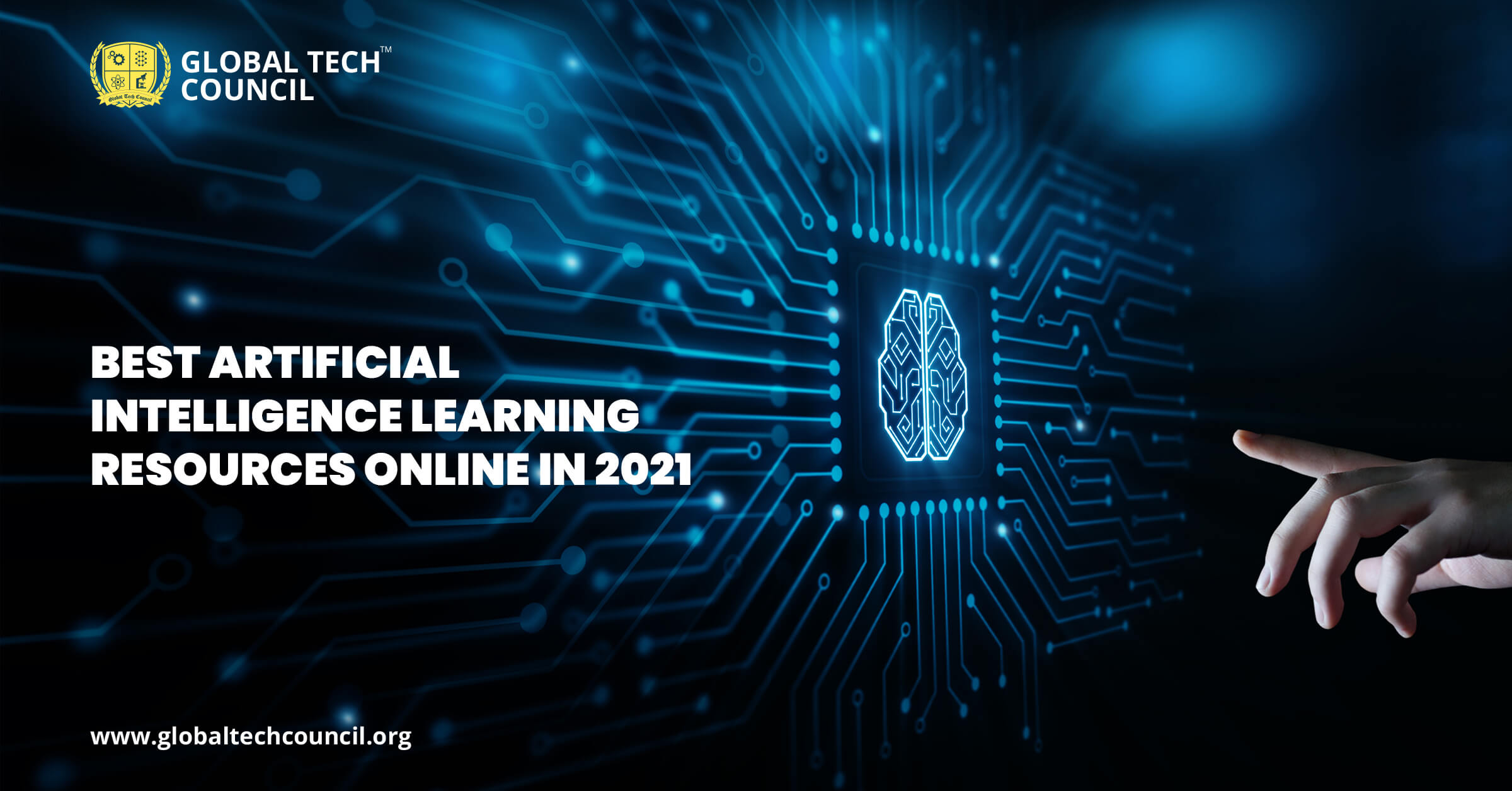 There are many courses available on the web that provide artificial intelligence certification training. However, not each of them fulfills the learning requirements of students. Hence it is crucial to get the best resources if you want to become an artificial intelligence expert. 
So here is a compilation of the best courses, blogs, and YouTube channels you can consider for learning AI.
Online courses for AI
AI for Everyone – Coursera
This course is suitable for people who want to leverage artificial intelligence in their work environment without getting too much into technicality. During this course, you will learn about the implementation strategies and workflow of AI projects in business.
Introduction to Artificial Intelligence – Udacity
If you want to become an AI developer, this course will help you understand the basics of logic and statistics in AI. Further, it will involve coursework on AI applications like robotics, computer vision, natural language processing, etc.
This course is an online representation of what Stanford University teaches its students regarding AI. It will take you around four months to complete the entire course.
Stanford Machine Learning – Coursera
This course is most applicable for individuals who have a programming background and experience in linear algebra. Moreover, the online course entertains around 4,316,734 students across the globe involving even professionals. Hence you can deem the quality of this online training program.
Further, students learn core concepts of machine learning, including unsupervised and supervised learning, neural networks kernel, and support vector machines. Aside from this, you will also get to practice your learnings through real-world case studies and hands-on experience.
Learning From Data (Introductory Machine Learning) – Caltech (EdX)
Machine learning is an important element of artificial intelligence, and if you want to develop mathematical expertise in the field, then this research is the best option for you.
Also, it covers fundamental probabilities, calculus, and matrices, making it one of the best resources for learning AI. Moreover, the course contains topics and chapters specifically for an individual who wants to become an artificial intelligence expert. The course will take around ten weeks to complete.
Artificial Intelligence A-Z: Learn How To Build An AI – Udemy
This AI certification course will teach you how to build an artificial intelligence framework for real-life applications. It includes games and self-driving cars. Furthermore, it will offer you learning techniques which is a method to sharpen learning. Also, this technique has a wide application in the artificial intelligence field. However, you will need to have knowledge of basic Python programming and mathematics.
Blogs for learning artificial intelligence
OpenAI –
It offers guest blogs by experts in the field, including topics like Procgen Benchmarking and Double Descent.
RE•WORK's Deep Learning Blog –
You get to learn diversity in artificial intelligence series, guest blog posts, current top women in the field, and many more.

AI Time Journal –
Here you can learn from the latest blogs, interviews on data science, etc. For becoming an artificial intelligence expert, you must be aware of what's going on in the sector.
AI feed by Medium-
The feed contains everything related to data science and pops up recommendations to offer the best reading experience.
Andrej Karpathy AI Blog –
It is a blog by a former research scientist of OpenAI who is also director of artificial intelligence at Tesla. Hence no need to say that you can get quality information from this blog similar to high-quality AI certification.
AI blog by Google
Google collects the latest changes and updates in the sector and presents them in a well-organized manner.
IBM Developer blog –
IBM is the most popular name when it comes to learning anything technical. So here in this blog, you will find AI developers ready to interact and help readers. Also, it contains a huge library of information resources. Plus, there are over a hundred open source projects on the platform.
YouTube channels for learning artificial intelligence
Sentdex
This YouTube channel will help you become an artificial intelligence expert by teaching you to comprehend the implementation of machine learning from the very origin. Here the instructor uses the Python programming language to teach the students.

Artificial Intelligence – All in One
If you want to become an AI developers, you cannot miss this YouTube channel that contains AI training on critical topics. 
Here you will learn about neural networks, machine learning, and natural language processing. Moreover, robust AI experts like Dan Jurafsky, Geoffery Hinton, Andrew Ng, and Dan Jurafsky interact with students online.
Two Minute Paper
This channel offers the most recent research on machine learning. If you are someone who is curious to learn about new findings in the area of artificial intelligence, then this channel will consistently provide you with key ideas and the latest research outcomes. Here, viewers get a 2-minute long video that delivers research articles.
Yannic Kilcher
Get a deep understanding of the recent research articles concerning artificial intelligence. It is a must-visit YouTube channel for AI learners.
Conclusion
Artificial intelligence technology has become part of our professional as well as personal life. From using mobile apps to sending money abroad, AI more or less plays some role in all online processing. Hence, opting to become an AI developer would be a plus in your career.
If you like to be informed on technical fields, check out the GLOBAL TECH COUNCIL for recent updates.