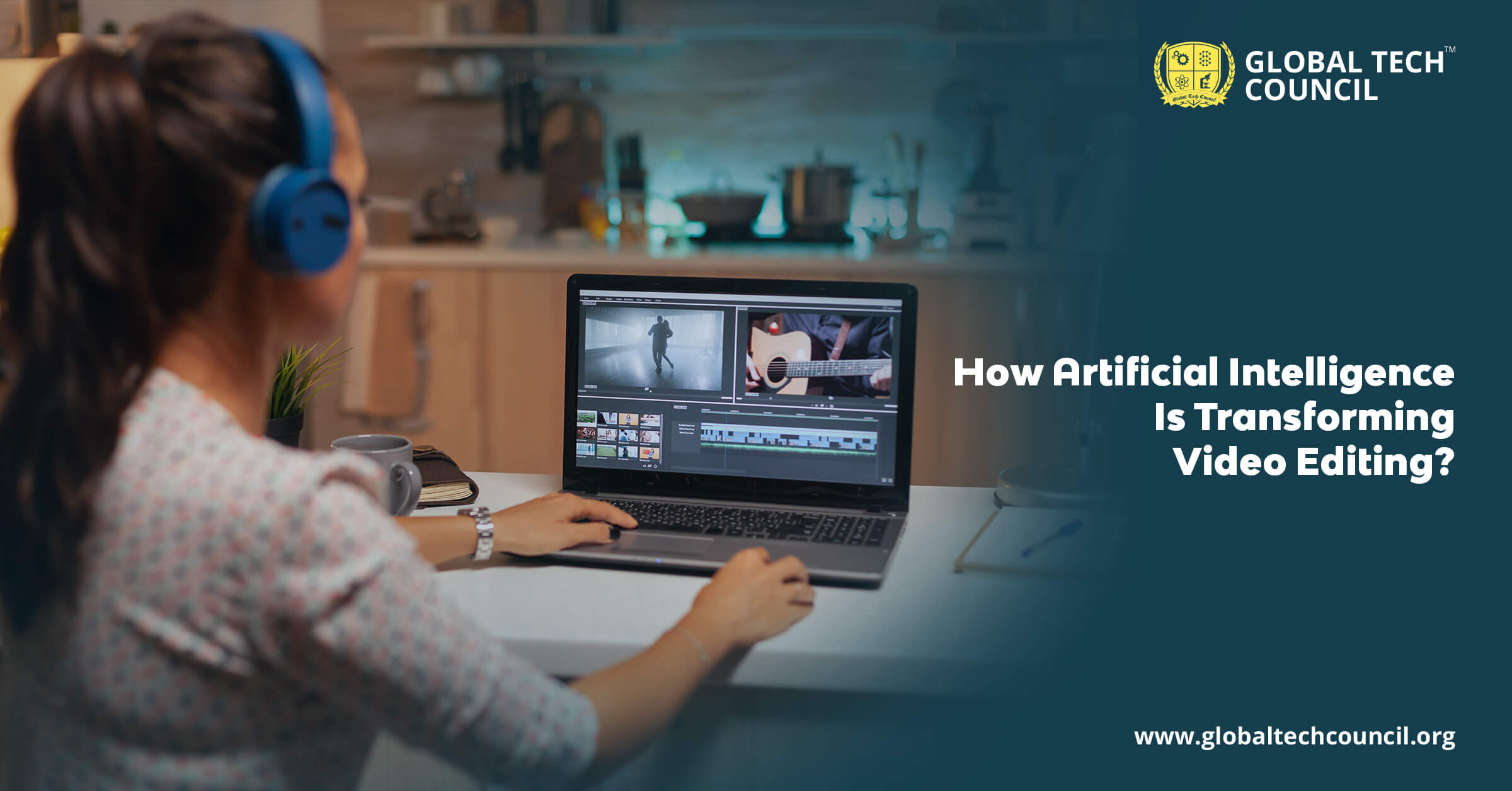 The advancement of Artificial Intelligence is changing numerous aspects of our reality. And, video editing software is one of the best examples of this change. With regards to managing basic applications like video editing software, AI is beginning to take the place of humans in certain circumstances. Additionally, AI can analyze its missteps and make improved decisions than a human at any point could.
However, for people who have careers as video editors, this might appear to be startling. Yet, there are various ways human workers can help in managing the tasks that an algorithm can not handle yet. Additionally, taking an Artificial Intelligence certification can open new doors in the technology-based career field. 
What is AI Video Editing?
As per the Artificial Intelligence expert, AI-based video editing tools are one of the best aspects of futuristic video marketing methods. This is because it permits the content to be more applicable to the clients' needs. Such tools use logical algorithms to grasp the needs of the user. Given that users need to provide specific data so that AI tools can meet the content expectation of the user.
The brands can settle on information-driven decisions to make their content more instructive by employing the AI video-creating software when making the video.
Additionally, you can find many AI-based video editing apps on the web. Some of the applications have millions of downloads by mobile phone and desktop users.
What is the need for AI in Video Editing?
Artificial Intelligence for video editing can automate the video creation procedure. Furthermore, its functionality benefits from the neural networks and computer-empowered algorithms to comprehend the graphic and audio content of the video and upgrade video quality. Also, It can assist with editing videos without needing much guidance from the users. Users can use both the AR video overlay effects or standard video editing. On the one hand, the video augmentation tools can improve the videos with AR effects to make them fascinating to look at.
On the other hand, standard video editing permits us to indicate diverse video parameters and define the sequence of videos. Furthermore, users also get the services like video face filters, beautification, video post-preparing, the addition of GIFs and texts. Further, Interested individuals can opt for AI certification programs to learn in-depth details about this evolving technology. This way, they can understand the value and potential of its development.
The list of the advantages of using AI in video editing
AI brings various developments and benefits in the field of video creation and editing. As per the Artificial Intelligence expert, AI will take over the operational systems of almost every industry in the market. Here are a few advantages of AI-based video editing:
Automated video footage curation
One of the earliest employments of AI in video editing was seen in 2016 when IBM used its Watson supercomputer to curate material and created a trailer for the horror-thriller Morgan.
This video presentation still demonstrates the impact that AI may have on futuristic video content curation. Moreover, a human editor takes hours, days, or even weeks in the process of watching and curating every video material. However, an AI may do it in a minimal time as per defined attributes. Then, human editors might further focus on making the final edits with the help of the AI-curated clips.
Today, companies are utilizing AI significantly to streamline video curation. In specific circumstances, like Google Clips, the AI selects short and intriguing clips to shoot alone and logically learns and further develops its decisions relying upon how the client responds to the clips it creates. Also, it has the potential to do all the work by itself.
More smart and automated tools
Not only video curation, but many different tools may profit from AI similarly.
Since AI can decipher films, you can utilize it in practically any kind of editing instrument, from shade alignment to deter elimination, visualizations enhancement, picture adjustment, and substantially more. Moreover, most of the current technologies in these editing roles look to assess films utilizing refined algorithms, which Artificial Intelligence may take the place of.
Numerous platforms are now starting to offer more shrewd AI-helped editing features. Additionally, different editors are beginning to conduct their own AI solutions. Not so long from now, experts foresee that more savvy video editing tools will arise, using AI to understand and give video editing recommendations. Also, future video editing processes ought to be much simpler for novices with such tools. Thus, more professional users will essentially want to diminish their efforts by having AI execute a significant part of the tedious work.
Will the fully automated video editors take over the role of manual editors?
Even though AI is changing video editing – every one of its progressions acts as a tool to help and work with a human editor. Programmed video editing doesn't automatically follow your wishes, your content's theme; in fact, it alters film clips as per your prerequisites. Hence, the truth is that while AI might transform videos entirely automatically, it is as yet far off from being able to do that efficiently.
Therefore, it is best to consider AI a helpful tool to improve video editing and diminish the time it takes to prepare videos. Hence, as ML and AI are both still in their early stages, it's impossible to tell what they may ultimately become in the coming years.
Conclusion
Artificial Intelligence is reevaluating the landscape of video editing, and presently is the opportunity for associations to take advantage of the promising advancement. For quite a long time, Hollywood has been utilizing AI-driven innovation in its movies. Regardless, any business that needs to make convincing movies with astonishing effects and images may now use this cutting-edge technology. What is your take on Artificial Intelligence? If you want access to more knowledgeable content on technology, check out the GLOBAL TECH COUNCIL. Take the certifications programs to become an expert AI developer.