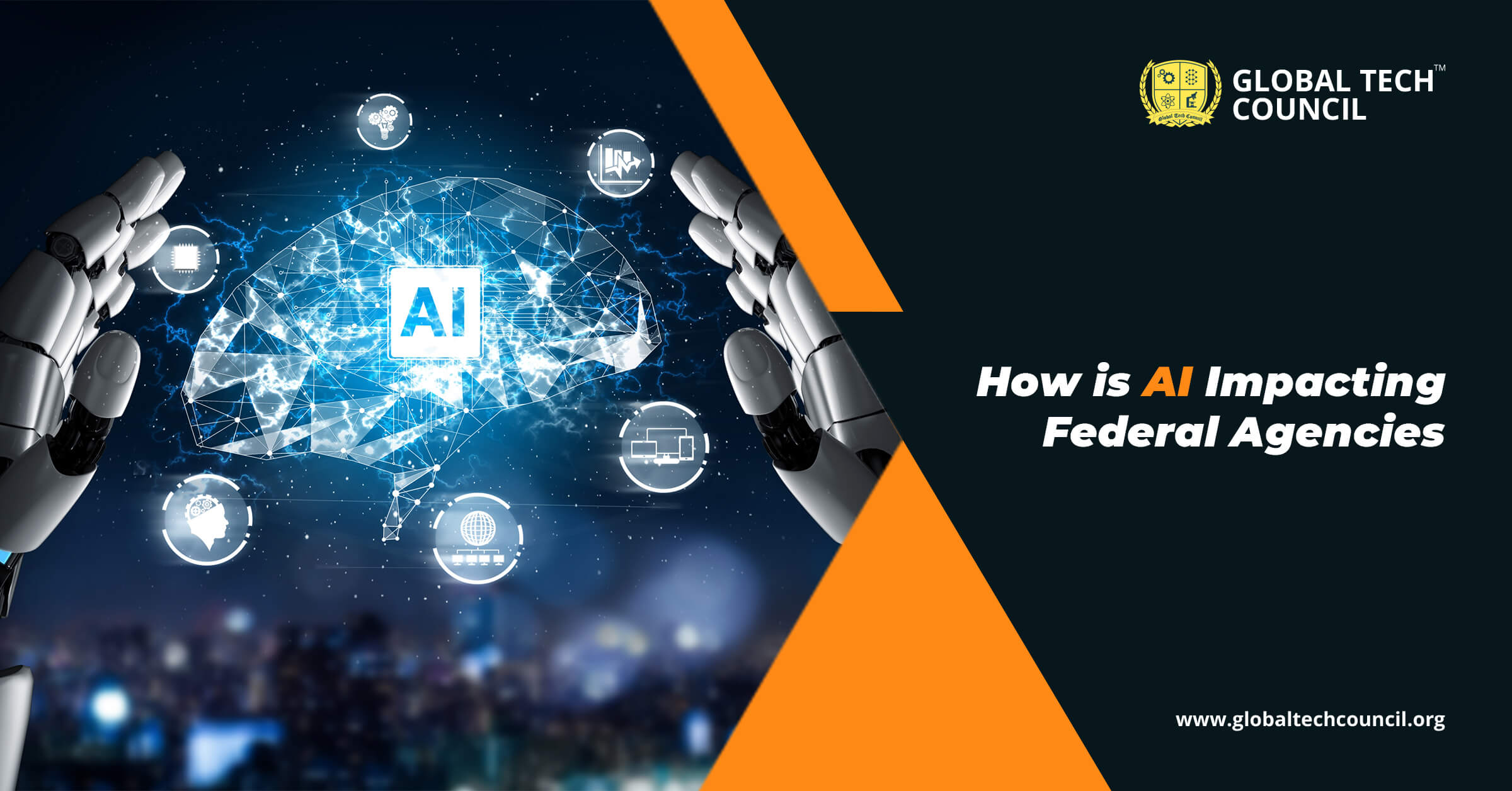 This article talks about one of the most exciting applications of AI, and that is the role of Artificial Intelligence in federal agencies.
Table of Contents
Introduction
What AI is Meant for Government Agencies
Concluding Lines
Introduction
The advent of Artificial Intelligence has taken the world by storm. At present, AI Experts and professionals are considering AI as a technology solution that can help with almost everything.
Due to rapid developments by AI Experts, government agencies have started investing in AI and ML, applying these technologies to a wide variety of applications.
AI can be defined as a branch of computer science studying machines with an aim to stimulate human intelligence methods. Technology has the ability to lower the cost of governance processes and functions, increase decision accuracy, and unlock the power of administrative data, thus resulting in better responsive and reliable government outcomes.
The President signed Executive Order 13859 on the American AI Initiative in February 2019, which developed the US national strategy on AI. Government agencies, on the other hand, have already invested extensively in AI and machine learning, putting it to use in a variety of applications. Although previous AI implementations may have occurred at the discretion of different agencies, this executive order places a greater focus on AI implementation across the federal government.
Want to become a Certified AI Expert? Your search ends here!
What AI is Meant for Government Agencies
The AI Center of Excellence seeks to expand and strengthen AI implementations in the federal government, as well as assist agencies on their AI adoption path. The GSA AI CoE's small team is assisting in the implementation of several significant reforms within the federal government.
As AI is spread widely across all domains, government agencies are no more an exception. Let's explore how this technology can help government institutions for good.
Postal Services Developing Autonomous Delivery and Hauling of Mail and Parcels
We are all aware of postal services. Isn't it? But despite its popularity, the postal services have faced dwindling sales and rising operating costs. According to statistics, the postal service has been in a budget shortfall for more than a decade, recording net losses of approximately $3.9 billion in the year 2018. As revenues dipped, the Postal Service's labor and operating costs have continued to rise. To combat the challenges, the Postal Service has been experimenting with AI applications for various purposes, such as transporting mail and parcels. Using autonomous vehicles that use Artificial Intelligence to deliver mail and parcel to endpoint addresses helps conduct the entire delivery process autonomously. Apart from that, such vehicles decrease the number of accidents, lessens traffic jams, and saves a lot of time.
AI to Help Public Servants
AI has the potential to automate tasks which in turn saves time and leads to cost savings. Now, when the work of public servants can be performed in lesser time, a government might reduce its staff numbers and save its money for other quality services. Not only this, Artificial Intelligence, when fully deployed, will help public servants in making more informed decisions in a faster manner. Due to such advantages, government leaders are ready to prepare themselves for the organizational shift. But here, it is important to note that since AI is changing rapidly, the government continuously needs to concentrate on evolving the existing workforce, introducing new programs and training opportunities to keep skills current.
Locate Inaccuracies in Public Finance Data
Government accounting systems generate a tremendous amount of data; thus, as a result, finding errors in financial statements is a tedious and complex task. The use of time-series modeling to consider improvements in daily spending profiles and debtors, as well as the discovery of rare expenditures and fraud indicators, will assist finance departments and auditors.
AI to Reshape Public Health
Apart from the use-cases mentioned above, AI has the potential to reshape the field of health care by enabling improved diagnosis and facilitating an increasingly precise approach to medicine. By leveraging AI, health experts can identify at-risk populations for any number of chronic diseases, decreasing the disease burden. The best part is that it can help detect threats before traditional mechanisms and helps doctors in understanding what kind of interventions prevent disaster.
AI has also shown to be helpful in tracking COVID-19 events. Technology can provide crucial information for resource allocation and decision-making by prioritizing the need for ventilators and respiratory supports based on statistics and clinical criteria.
Concluding Lines
From the above discussion, it is clear that the pace of AI/ML development in federal agencies seems to be accelerating but somewhere still struggling with the best way to put those AI efforts into practice.
What is needed is for governments to invest in building a targeted program around leveraging AI with well-articulated goals.
If you are a technocrat and interested in gaining an in-depth understanding of AI, you can get enrolled in the Global tech Council and become an Artificial Intelligence Developer.