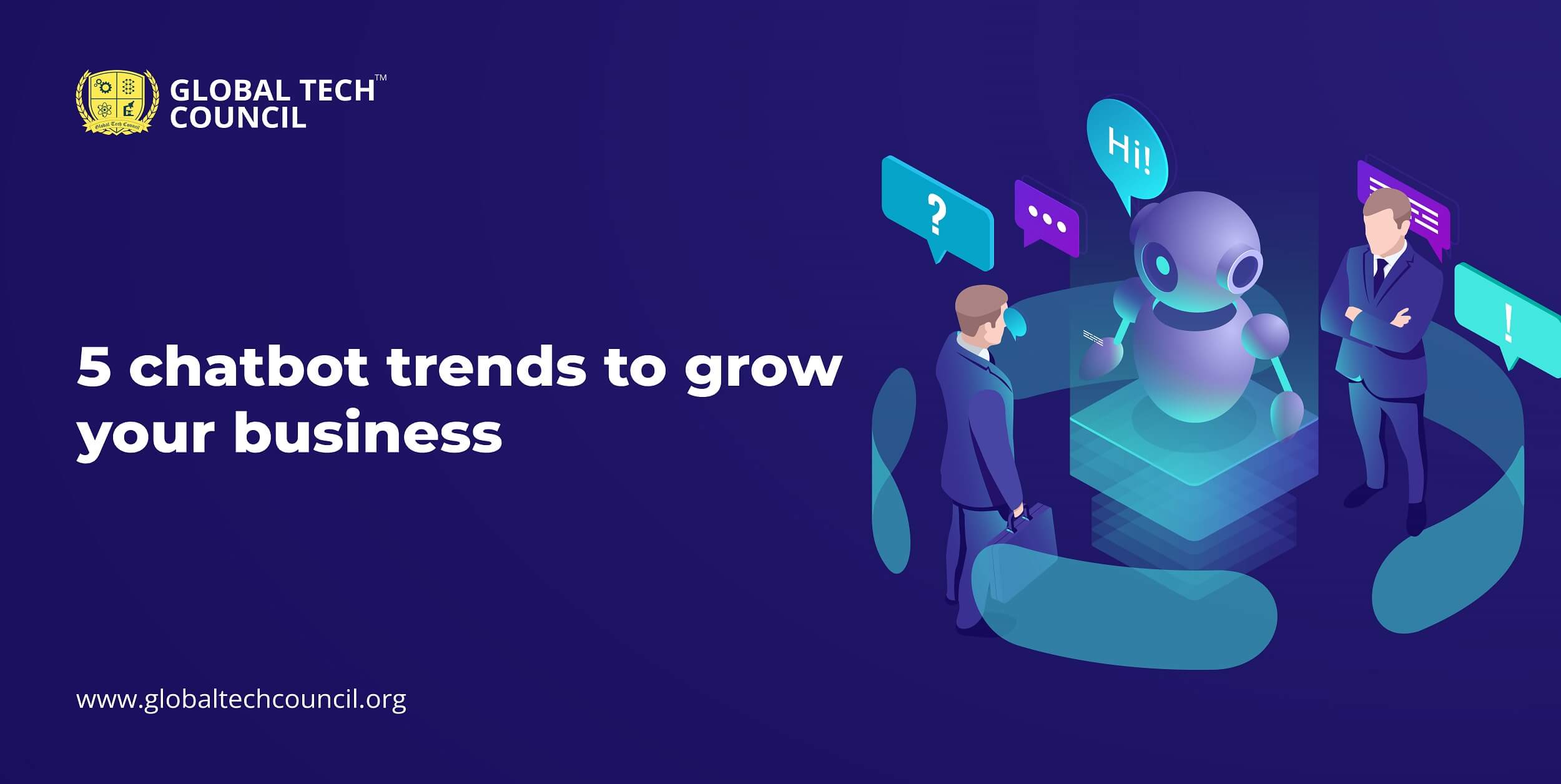 Artificial intelligence chatbot trends and market outlook are on the rise, so businesses must adapt how they engage with customers. New opportunities are the beginning of the new year. As a result, newer AI technologies should be developed, and existing technology tools will be advanced that one can learn in a chatbot training course, and the market will foster.
Businesses and consumers interact in a new way because of Artificial Intelligence (AI). Using AI in automated business communications allows machine learning and dynamic analysis.
Soon, chatbots are envisioned to move from superficial customer-based interactions to more evolved real-time interactions based on computational modeling. During the last few years, business chatbots have experienced rapid growth and have taken over many sectors and functions within organizations. Following the latest AI chatbot trends will help you scale faster and gain visibility for your brand if you are an entrepreneur.
Understanding Chatbots
Chatbots are computer programs that communicate with humans or customers through a messaging interface.
Artificial Intelligence (AI) technology powers most chatbots, allowing them to solve problems, improve customer interactions, and send personalized messages to improve the overall user experience.
People believe chatbots will replace the human workforce and sales agents in many sectors such as the backend and call centers, but this is not the case. Website visitors can access 24/7 customer service through chatbots. Chatbots are only intended to make the employees' lives more accessible and easier workflow.
Lauren Foye's statistics show that chatbots can automate up to 90% of customer service interactions in banking and other industries.
Here are a few tips for growing your business with chatbots.
Chatbots and Artificial Intelligence
Call centers are increasingly adopting chatbots and other digital assistants worldwide to reduce customer service costs. When organizations upgrade from inefficient IVR technology to AI, chatbots lower prices and maximize profits.
In order to reduce the number of employees and agents handling calls and requests, chatbots can do so automatically, allowing them to focus on tasks of more excellent value and complexity. Chatbots are available 24/7 to assist customers, reducing infrastructure costs while also improving employee productivity, operational efficiency, and customer service.
Customer support chatbots offer the following benefits:
Organizations can automate processes by using chatbots to handle first-level and repetitive queries.
As they simplify customer interaction, chatbots facilitate customer interaction.
Based on past purchases and purchasing patterns, customers can be recommended products and services.
Chatbots offer an increasingly human-like chat experience.
AI, Machine Learning (ML), and Natural Language Processing (NLP) are being used by organizations to make chatbots offer human-like and natural experiences to meet ever-growing customer expectations and demands.
Businesses benefit from chatbots with conversational AI and NLP for a chatbot developer:
Ensure that customer relationship are enhanced and strengthened.
Giving your customers valuable feedback and insights will help you improve their experience.
Improve their credibility, customer loyalty, and reputation.
A recent study by Mobile Marketer found that 40% of millennials claim they speak with chatbots daily, proving that chatbots are becoming increasingly popular amongst consumers.
Platforms And Messaging Apps With Chatbots
Social networks are losing ground to messaging applications such as Whatsapp and Facebook. According to Whatsapp, it gained over 1.3 billion monthly active users in the first quarter of 2018.
Businesses and brands can establish long-term relationships with their target audiences using messaging applications. Using chatbots with these messaging apps can also result in more personalized customer service and one-on-one interactions.
Businesses can push these features with conversational AI on messaging applications:
Quick response to brand awareness
Customized customer service with better response times
Each day, more people are using messaging apps. For your business to connect with customers and promote your brand, you may need more than one Facebook, Twitter, or other app accounts. You will need to verify your phone number when you create these accounts. Only providing one phone number for one account won't work.
The Use Of Chatbots Is On The Rise in the e-learning industry
Chatbots have streamlined many functions, including customer care, marketing, sales, and HR. Interestingly, they're also employed to facilitate individual or everyday activities, such as exercise, parenting, kids, e-learning, etc. To create a customized chatbot experience, exercise chatbots are being developed to discover user preferences. The user will still be able to engage with their weekly fitness routine without spending much time on it.
One of the most successful innovations in eLearning is chatbot technology, which simplifies coaching by automating it. This intelligent bot is often used as a virtual assistant that one can learn in a chatbot course and a chatbot online course.
In fact, chatbots are the most effective means of bridging the gap between technology and education. By implementing chatbots, students and tutors can learn together in a way like one-to-one interactions.
Chatbots Are Used In HR And Other Internal Business Processes
Chatbots simplify many internal business processes for small to large organizations besides managing customer requests.
The following are some use cases and examples:
HR: Chatbots can screen resumes, select suitable candidates among a pool of applications, manage employees, complete HR transactions, and assist HR professionals in their decision-making processes.
The internal help desk: Chatbots can answer common customer questions on behalf of IT help desk workers. Chatbots increase employee productivity and responsiveness by handling repetitive and straightforward questions.
Chatbots will automate payments in the future. Simple payments and transactions can be automated with chatbots, which integrate with Facebook Messenger apps, virtual assistants, or live chats. Instant transactions can increase customer satisfaction and retention by making customers more content.
Offering your business the ability to accept payments through messaging apps like Facebook Messenger can provide you with the following advantages:
Customers can receive personalized recommendations.
Customers feel comfortable sharing credit/debit card information with such a trusted platform.
Mobile phones make transactions easy for customers.
Compared to other channels like live chats, it is a much more efficient solution for payment transactions.
In A Nutshell!
Technology trends are more than necessary for your business to keep up with and implement, automate mundane and redundant processes, save costs, and offer better customer service.
One such trend is chatbots, which are becoming increasingly popular among different businesses rapidly. Monitoring these trends and adjusting your business operations accordingly is of the utmost importance. You should think about the fantastic chatbot trends mentioned in this article if you want to grow your business in 2022.