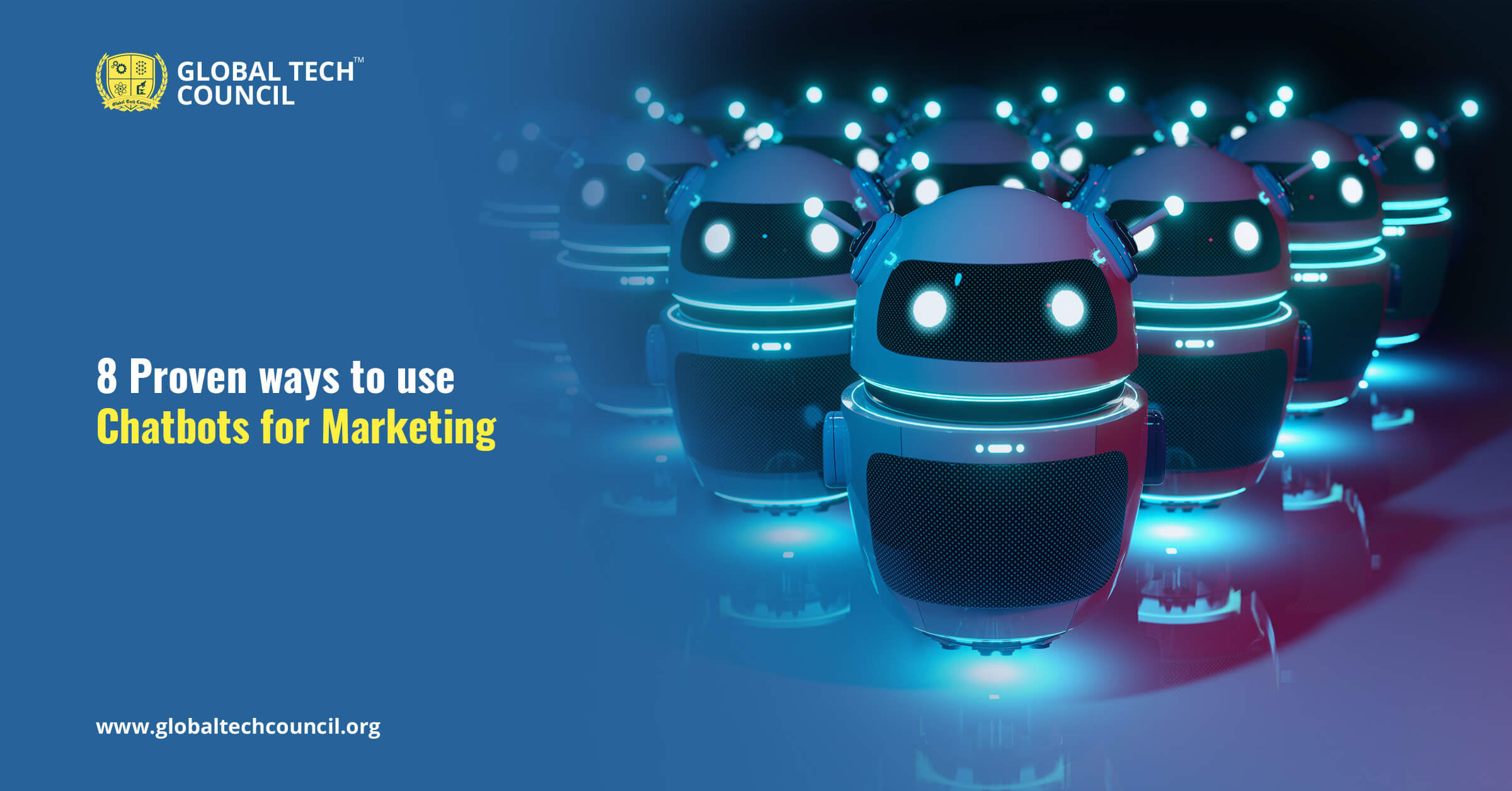 Marketing is the key to better sales. The E-commerce business is increasing exponentially day by day. Apart from that, all the companies are coming online for better results. Better marketing strategies and better interaction with customers help in increasing sales. This is where chatbots come in. Chatbots are a new-age marketing strategy, a computer program designed to communicate with the user through an automated chatbox. Nowadays, this tool is commonly used on digital platforms, and this industry is expected to reach USD 1.25 billion market cap by 2025. Here we will discuss 8 proven ways to use chatbots for marketing more efficiently. So let's get right into it.
Table of Contents
8 Proven ways to Use Chatbots for Marketing
Lead and Revenue Generate:
Increase Customer Involvement:
Constant Customer Support:
Provide Faster Response:
Time and Cost-effective:
Guide Customer:
Widen Brand Reach:
Personalize Recommendations and Discounts:
Importance of Chatbots as a Marketing Tool
Conclusion
According to experts, chatbots can cut operational costs by up to 30%, so the increased demand for chatbot marketing. And in this technological era, automation is taking place everywhere. As a result, experts expect that 50% of businesses will spend more money on chatbots instead of new employment, and chatbots will handle 85% of customer interaction. Below are the 8 proven ways to use chatbots for marketing.
8 Proven ways to Use Chatbots for Marketing
There is much research that suggests that chatbots are highly successful in marketing. However, if you are confused about whether to include a chatbot in your digital platform or not, below are eight proven ways to use Chatbots for marketing more efficiently.
1. Lead and Revenue Generate:
Chatbots use direct messages to gather necessary data to provide support. This automated interaction collects all the required information from a customer without requiring any human to ask for it. This information can be analyzed to give better support and better leads, which eventually increase the revenue.
2. Increase Customer Involvement:
Chatbots give better customer involvement which leads to customer satisfaction. By deploying chatbots on social media platforms, a bot can interact with more customers.
3. Constant Customer Support:
Customer support is a very crucial part of every business. But it is not possible to have any dedicated person all the time to answer customer queries. Chatbots can easily give this support. Customers can gain access and get the information they need even after the business hour. Quick response and 24/7 support help increase customers' trust in the business, which will help increase sales.
4. Provide Faster Response:
According to Sprout Social's 2016 index, customers expect a response from customer support within 4 hours, which may be impossible for a person to do so. Chatbots can solve this problem. It can send reactions in no time, which gives customer satisfaction and builds a better brand image.
5. Time and Cost-effective:
A chatbot is the most time-saving and cost-effective marketing tool. It takes no time for any employee and needs no extra cost to maintain. A chatbot can also be used as a place for advertising products as well. For example, it can give customers notifications about updates, offers, and new releases. This helps to increase sales because customers love offers and new things.
6. Guide Customer:
Customers do not always know where to find their desired product. A chatbot can be used to guide the customer to find their necessary product in no time. This tool can be convenient for new customers. This strategy can increase customer satisfaction. Chatbot helps customers to explore the business and make them interested.
7. Widen Brand Reach:
Social media is a great place for marketing. So a chatbot that will present in the social media messaging platform can gather more customers and increase sales by allowing the customer to place an order using the chatbot.
8. Personalize Recommendations and Discounts:
Personalization has a positive impact on marketing. It helps in increasing sales tremendously as customers are attracted to personalized orders. So a chatbot can help to increase the number of customized orders and take recommendations from customers in a better way, which will increase sales.
Importance of Chatbots as a Marketing Tool:
1. All the leading businesses like Dominos, H&M, First job, etc., use chatbots as a marketing tool. So it is safe to state that chatbot is a proven marketing tool that will help grow business.
2. It increases sales without any extra time and cost. So it is better to deploy a chatbot in the business software.
3. One can quickly grow their new business or startup using chatbots. For starters, one can easily do a chatbot course or chatbot training to design their chatbots in a better way.
4.   It is proven that chatbots can answer 80% of standard questions. So it becomes essential to design the chatbot properly to help the business. So one can hire chatbot experts to create their chatbot contents to cover all the aspects.
5. According to experts, almost 1.4 billion customers are using chatbots, increasing every day. So the scope of chatbot marketing is rising, and it is better to use a chatbot for business.
Conclusion:
By the end of 2018, almost 300000 chatbots were present on Facebook only. So in this high competition in the market, it is high time to use chatbots to manage business queries and help the business grow better. So it is essential to design and write pertinent questions for chatbots that will attract more customers. If you are looking to learn how to integrate a chatbot into your website or a developer who wants to learn chatbot integration, you should check out the courses provided by Global Tech Council. And properly use chatbot as a marketing tool for business growth.