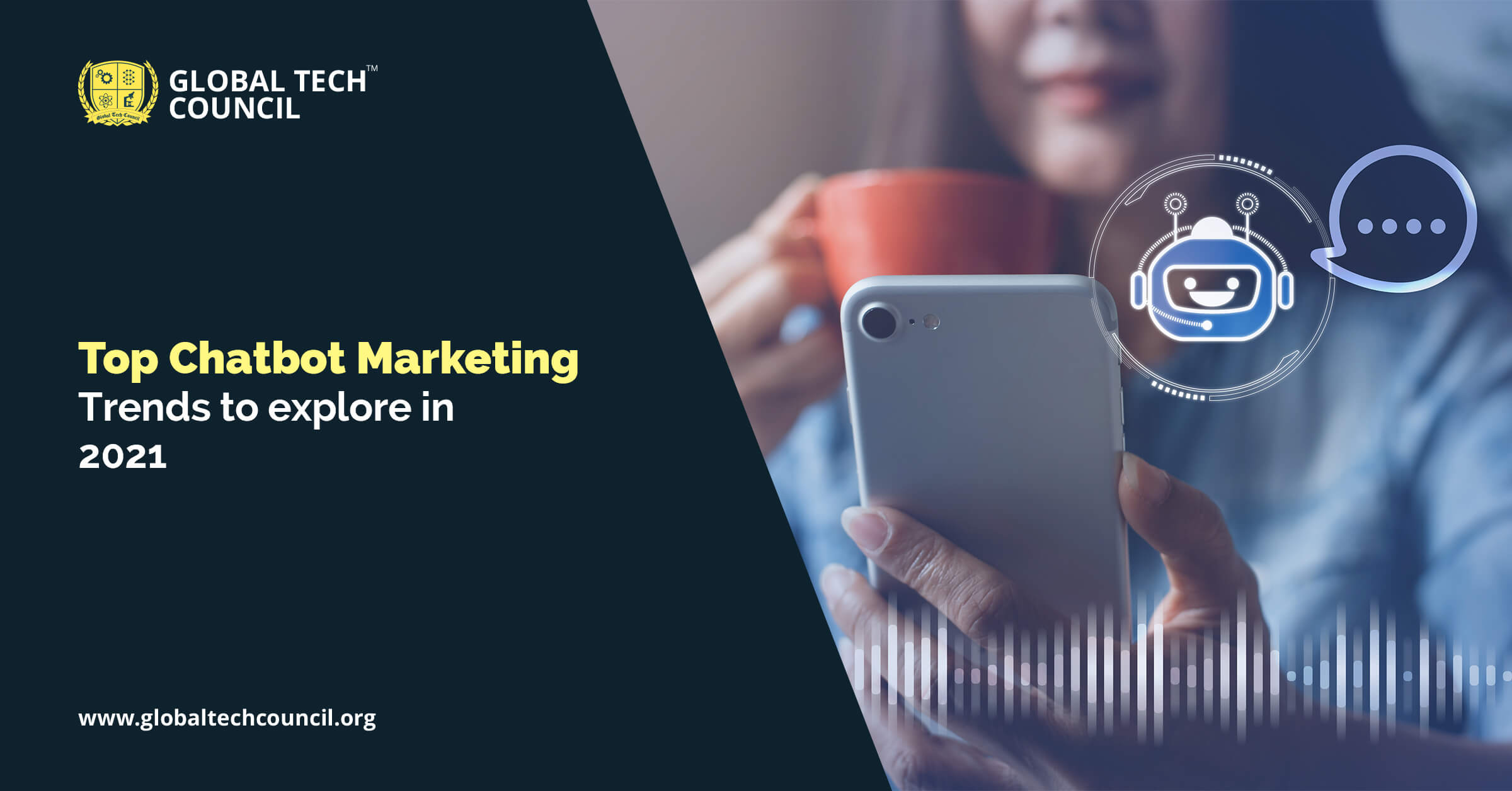 Did your employee of the year work around the clock or never took sick leave without fail? No, right? Operating 365 days with no breaks sounds next to impossible, but we have a new candidate who successfully offers the above and much more. Chatbots are the new favorite employee of every company. Chatbot training is gaining traction in today's marketplace due to the drastic shift from product-centric to customer-centric services. Chatbot programming is focused on making the customer experience hassle-free, quick, and satisfying. In this article, we will talk about the top marketing chatbot trends worth checking out.
Table of Contents
Top Marketing Trends

More AI Integrated Chatbots
Shift Towards Voice Bots
Transactional Bots
Messaging Platforms
Streamlining Internal Services

Concluding Lines
TOP MARKETING TRENDS
Listed below are some marketing trends that you don't want to miss out on in 2021.
More AI Integration
The AI chatbot builds better relationships with customers by providing tailored services that lead to a satisfied customer base and boost customer loyalty. They use natural language processing and machine learning algorithms which makes them sentimental and more human-like. In today's fast-paced world, where people want everything within a split second, AI bots are the correct fix.
Let us explain this with an example; earlier travel applications only allowed you to book your accommodation, but syncing it with AI travel bots has enabled features like updating you with the happening places nearby, weather updates, and shopping centers. These chatbot experts can even learn from their interactions and upskill themselves with time.
Shift Towards Voice Bots
Are you also dependent on Alexa to wake you up, remind you about important meetings, or suggest a song for your current mood? If not, then you're missing out on quite a lot. Texting can sometimes be a tedious job, whereas voice is the most effortless and faster communication form. Voice bots not only make the conversion easy and natural but also more engaging and personalized. Thanks to voice bots, users don't have to call only during business hours or stand in long queues to speak with a service agent. Companies are adding voice bots to their checklists, with the new generation demanding fast services and lesser human interaction.
Transactional Bots
Transactional bots can be an excellent replacement for talking to an actual person or using complex interfaces and switching between multiple tabs, thus saving time and effort. They can help sell products while conversing with a bot that answers your queries without testing your patience while also recommending products that meet your requirements.
Let us look at a few examples-
Domino's bot can reorder a customer's previous order, saving them from the monotonous steps of placing an order and making a payment.
Many people rely on Facebook Messenger to prevent credit or debit card security issues; these bots do not fail to gain your trust and make the payment process a walk in the park for you.
Everyone's go-to coffee chain Starbucks uses chatbot training for sales and marketing by suggesting beverages based on previous customer behavior, regular updates about the seasonal drinks, and helps in processing their orders.
Messaging Platforms
Platforms use messaging chatbots for marketing their services to increase brand awareness and customer engagement. Let us understand this trend better by looking at the initiative taken by The World Health Organisation during the Covid-19 outbreak wherein providing reliable information around the world daily was an essential task. As a result of which WHO started using the Whatsapp bot named 'WHO Health Alert.' This chatbot gives out real-time information about symptoms, vaccinations, and travel advisory. Lately, many small brands and startups have also been using messaging platforms to scale their businesses as it is pocket-friendly and a great way to keep their customer base involved.
Streamlining Internal Services
Chatbots are continuing to efficiently streamline customer care, HR, and many other functions. It goes unsaid that every company wants to reduce its customer service costs by introducing conversational bots. Given below are some sectors where chatbots are overtaking human services –
HR chatbots have drastically reduced the time recruiting teams spend on screening candidates. These chatbots handle all the standard questions and respond with a customized message because of the advanced chatbot programming. These chatbots can also act as an internal help desk to respond to queries and complete HR transactional services.
Bots can quickly reduce the number of human agents required at a call center, decrease waiting time, accelerate customer service, and boost customer satisfaction. Hiring individuals for a 24-hour service can be pretty expensive. On the other hand, these chatbot experts can efficiently work around the clock without digging a hole in your pocket. By providing real-time feedback on customer responses and analyzing call data to improve overall performance, AI is reconstructing the modern call center.
Concluding Lines
Chatbot trends in 2021 are opening new frontiers and progressing their way into our day-to-day lives. If you want to get started with chatbot training, the chatbot online courses offered by the Global Tech Council will help you in becoming a chatbot expert and in marketing your services.