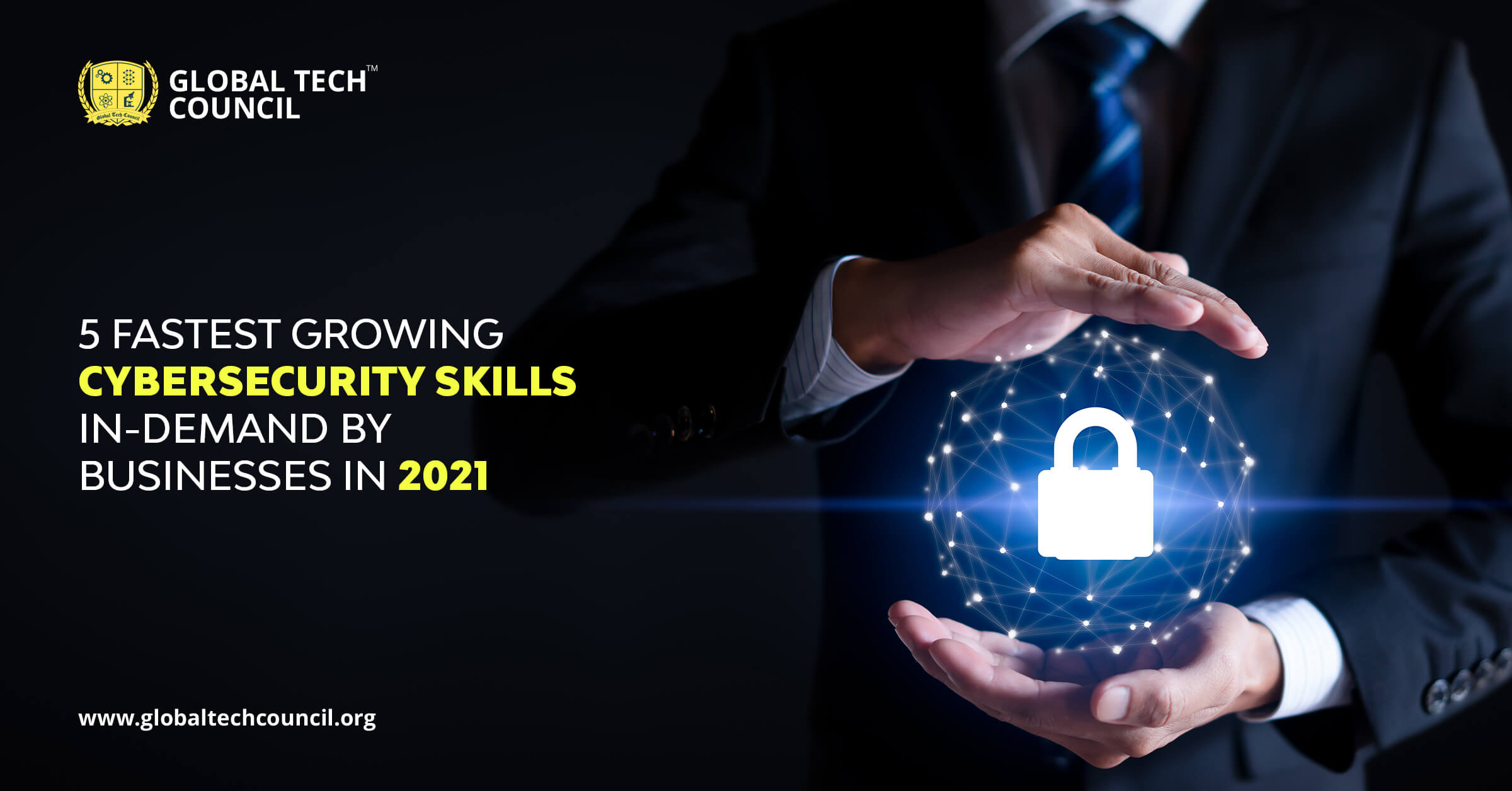 Cybersecurity is the procedure of defending individuals and companies from hackers attempting to gain accessibility to their networks with criminal intent. The proliferation of digital technologies, IoT, Cloud computing, and other related technologies has resulted in a vast amount of data that necessitates strong cybersecurity experts. Cybersecurity training is in high trend as it is a fast-growing area with career opportunities in various industries, experienced workers, dynamic challenges, and a high-speed work climate. So, in this article, we will be talking about the 5 fastest Growing Cybersecurity Skills by businesses in 2021.
Table of Contents
Why is Cyber Security In Demand by Business in 2021?
5 Fastest-Growing Cybersecurity Skills In-Demand by Businesses in 2021

Security through application development
Business Expertise
Information on Threats
Cloud safety
Control of Risks

Conclusion
Why is Cyber Security In Demand by Business in 2021?
If the concept of defending a firm's digital information from scammers excites you and you just want to pursue a career in cybersecurity. Then you must start researching the profession, knowing more about what specific expertise is required, proper analysis of a standard cybersecurity job, and then after all these efforts, you can finally learn about the necessary skills for a cybersecurity job.
As per a recent study of job data, IT specialists with experience in app creation, technology, big data, and risk mitigation would have the most work offers in the present and upcoming years. Based on the current survey, security teams with cloud experience seem to be in good demand. According to specific estimates, the need for cloud security professionals will grow by 115% overall within the next six years. This is a necessary skill for cybersecurity certification. Below are the five most in-demand skills wanted in cybersecurity.
5 Fastest-Growing Cybersecurity Skills In-Demand by Businesses in 2021
Certified cybersecurity professionals are needed by businesses to protect their company information and safeguard against the increasing risk of cyber threats. In this article, you will find the most demanding and required cybersecurity skills –
1. Security through application development
Analysis of loopholes in the software, creation, and addition of encryption techniques to shield it from threats are all part of application development protection. If newer software development accelerates, more cybercriminals see the exponential adoption of new technologies as an opportunity to target flaws in the program. Thankfully, application development protection specialists exist to safeguard the existing and future properties from a scammer.
Some primary professional occupations, such as Computer Programmer, System Engineer, Information security Engineer, and Server Architect, require application development safety techniques.
Protection for software is no longer an optional extra. To create a stable application, phases security precautions must be integrated into all technology creation service life phases. According to some estimates, demand for application development skills is expected to rise by 160 percent, placing it first among many other cybersecurity skills.
3. Business Expertise
Staff with cybersecurity expertise must understand the market, communicate in business language, and see themselves as business people and technologists. These skills are required of cybersecurity practitioners to risk management, which is the primary goal of the digital security team.
Professional security professionals must assist their companies in balancing risk with budgets, customer needs, and other business parameters.
3. Information on Threats
The details or documentation that a company needs to identify its adequate risks is referred to as cyber threat intelligence. Cyber threat intelligence data gives stakeholders the details they will need to ensure risk-free decisions about the firm's prospects.
It assists companies in preparing for possible cyber-attacks and deflecting any cyber-attack before anything happens by implementing adequate security precautions.
Some primary specialist professions, such as Cybersecurity Designer, Cybersecurity Specialist, Malware Analyst, Threat Intelligence Officer, and Computer Programmer, require risk management skills.
4. Cloud safety
Many of the precautions, regulations, and guidelines to secure files in the database from cybercriminals are referred to as cloud protection. Since companies are moving to the cloud, strong cloud protection is needed.
As security threats are constantly changing and growing more complicated, cloud computing is just as vulnerable as on-premises technology. As a result, the best-trained cloud protection specialist is required to manage any risks to the enterprise.
Cloud protection is becoming progressively crucial as we transfer our information, applications, business processes, and everything to the cloud. Many estimates predict that in 2021, cloud security expertise would provide a salary increase of $15,020- higher than most other qualifications on the market.
Protection in cloud storage is the second-fastest-growing skill. In the upcoming six years, the market for professionals with experience in cloud protection will increase by 110 percent.
Some critical specialist careers, such as Cloud Designers, Systems Analysts, Cybersecurity Technologists, Software Engineers, and Cybersecurity Advisors, require Cloud security expertise.
5. Control of Risks
The practice of assessing potential risk, defending, and minimizing the negative impact of risk on an entity is known as risk management or control of risk. It is a collaborative initiative in which the Senior Information Security Advisor designs and manages the risk strategy in collaboration with the partners.
Some primary specialist professions, such as Cybersecurity Programmer, Cybersecurity Coordinator, Cybersecurity Consultant, Management Services, and Network Developer, require expertise in risk management techniques. Salary increases expected for the Skills and experience in 2021: $13,380.
Conclusion
More than a specific qualification or even expertise with a few primary tools is required of cybersecurity professionals. Completing cybersecurity training has never been easier; with many online certifiers, anyone can become a specialist. But, if you want to be a decent certified cybersecurity professional, you should consider trying the courses offered by Global Tech Council.