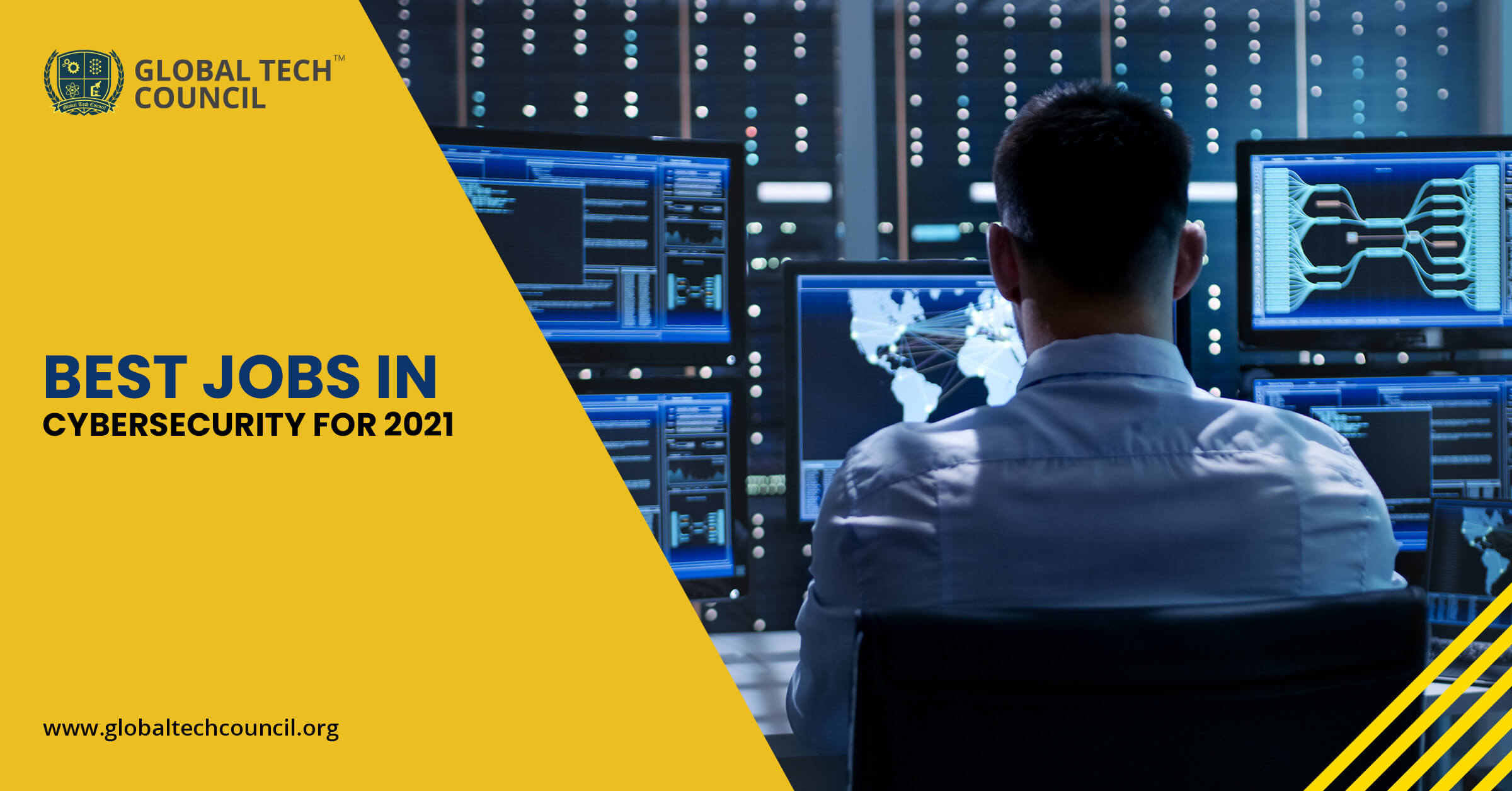 If you want to take your career in the cybersecurity industry, you have landed on the right page as this article enlists the best jobs in cybersecurity for 2021.
Table of Contents
Overview
Top Ranking Jobs in Cybersecurity for Futuristic Career
Concluding Lines: How to Learn and Become a Cybersecurity Professional
Overview
As our global economy has led to more Internet-based computing worldwide, organizations and businesses have grown more vulnerable to hacking and cyber-attacks. With all kinds of business transactions moving online, cybersecurity is a significant concern for businesses at a global level.
Cybersecurity offers a framework for protecting and securing anything vulnerable to hacks, strikes, or unauthorized access, mainly in terms of servers, computers, and programs.
Professionals who hold advanced cybersecurity skills are hot in demand. In fact, the demand for cybersecurity professionals is skyrocketing as government agencies, and tech giants are hiring skilled, proficient professionals. According to ZipRecruiter, the average annual pay for Cybersecurity in the United States is $112,974 a year as of Dec 24, 2020.
Want to become a Certified Cybersecurity Professional? You are just a click away!
Top Ranking Jobs in Cybersecurity for Futuristic Career
Whether you are looking to launch a career in the cybersecurity space or take your existing expertise to the next level, this compiled list of the most in-demand jobs in cybersecurity will help you.
Network Security Engineer
A network security professional is one who leverages tools and techniques to mitigate cyber-attacks and safeguard network infrastructure. He holds expertise in Kali Linux, installing metasploitable, information gathering, network sniffing, wireless hacking and security, and more. They also protect networks from falling prey to any malpractices. Network Security Engineer work in various domains including IT Company, Banking Sector, Cyber Forensics, Consulting Firms, Telecom Industry, and many others.
Information Security Executive
As cyberattacks and security incidences are upsurging, companies are looking for people skilled in information security.
An Information security executive holds expertise in developing, implementing, and managing information security programs for organizations and enterprises. The responsibilities of a security executive range from ensuring all the relevant softwares is updated regularly to installing new protective walls, preventing, monitoring, and responding to data breaches and cyberattacks.
If you want to gain comprehensive learning of information security and become a Certified Information Security Executive, check out Global Tech Council now!
Wireless Security Auditor
A wireless security auditor has a deep understanding of the latest trends, technologies, tools, and software that are available in the market. They are the ones who are counted upon for advice on security policies. A skilled and certified Wireless Security Auditor holds an in-depth understanding of the fundamentals of wireless networks, their security policies, methodologies of Wi-Fi security audit, and much more.
Demand for ethical hackers is soaring as they play a vital role in cybersecurity, keeping threats at bay.
A White Hack Hacker is one such profession that is gaining a lot of popularity. A white-hat hacker breaks into protected systems and networks to test and assess their security and uses his skills to improve security by exposing weakness before malicious black hat hackers can detect and exploit them. He/she holds a thorough understanding of the systems' fundamentals, cryptography, basics of footprinting to the high-level concepts such as hacking the system, malware in detail.
Pentesting Expert
A pentesting expert plays a crucial role as they help businesses and organizations identify and resolve security vulnerabilities and weaknesses affecting their digital assets and computer networks. They are responsible for performing penetration testing & vulnerability assessment and focus on the knowledge of web hacking techniques and methodologies.
As the demand for Penetration Tester in the industries is on the rise, there are various online platforms that offer online training and certification to the desired candidates.
Concluding Lines: How to Learn and Become a Cybersecurity Professional
If you want to take your career in this domain, it is crucial for you to understand that for most employers, knowledge and skills take higher priority than formal education, and there are no standard education criteria for this. If you have the zeal to learn, you can go for cybersecurity training certification.
Global Tech Council is one of the renowned online organizations that envisions to impart exceptional world-class training in the latest technologies, including Cybersecurity, Big data, Artificial Intelligence, and much more.
With an aim to bright up career prospects for individuals, training and certifications offered by Global Tech Council are specifically designed to give in-depth, hands-on knowledge, to enhance their credibility, and experience the acceleration in their career with a growth curve ahead as skilled cybersecurity professionals in various fields.
To learn more about cybersecurity certification courses and become a certified cybersecurity professional, check out Global Tech Council.