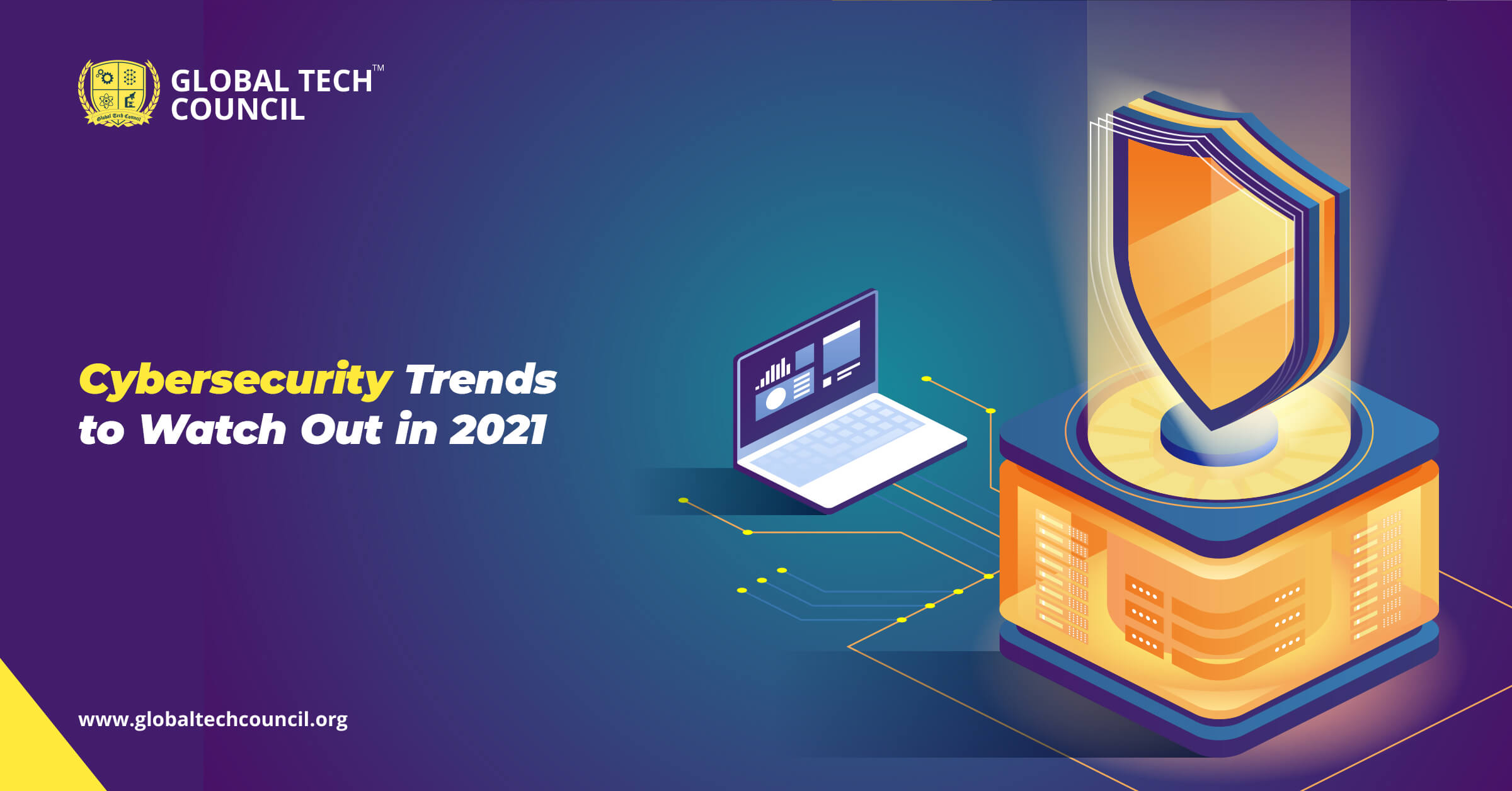 This article talks about top cybersecurity trends for 2021 that you should know, indicating the time has come to handle risk management missions more seriously.
Table of Contents
Overview
Cybersecurity Trends 2021
Concluding Lines
Overview
Latest developments such as the impact of a global pandemic, and hacking figures indicate a large rise in hacked and breached data from sources such as smartphones and IoT devices. COVID-19 pandemic has also raised the remote staff, raising the possibility of cyberattacks. But worldwide, there is a shortage of cybersecurity experts that might be considered an exciting subplot. Industry analysts foretell that there will be 3.5 million vacant cybersecurity positions by this year.
If you want to become a Certified Cybersecurity Expert, get started today with Global Tech Council.
Cybersecurity Trends 2021
In this section, let's have a look at some of the top cybersecurity trends of 2021.
Acceleration of Automotive Hacking
The first and foremost cybersecurity trend in 2021 will be the rise of automotive hacking. As technology is revolutionizing, modern cars are becoming increasingly advanced and automated. Such autonomous vehicles use technologies such as Bluetooth and WiFi and come with automated software building seamless connectivity and advanced systems for assistance purposes. These advanced vehicles open several vulnerabilities from attackers and hackers and give the cybercriminals access to the owner's trip data. Thus autonomous vehicles require complex mechanisms such as cybersecurity measures to deal with automotive hacking.
Smart Devices will Unfold from Connected to Autonomous.
IoT's increasing presence is bringing about an era of hyper-connectivity that is set to revolutionize how people work and operate. Smart cities, smart transport, and logistics are investing in becoming more autonomous, meaning increased built-in intelligence and lesser full-time connection, causing an impact on latency, connection availability, and security concerns. As more and more devices and systems interact with external services, there is a higher security exposure to attack.
Work-from-home Attacks
Although work-from-home isn't a new threat this year, cybercrime continues to increase at a rapid rate. There is a sharp increase since last year in cybercrime as Covid-19 has caused major disruptions and brought changes in the way the world used to work. With most of the staff using home broadband connections for personal usage and their jobs, the corporate attacks have increased a lot. Various reports worldwide indicate a sudden surge in cybercrime, with cybercriminals preying on new circumstances and vulnerabilities related to information systems, have come into the picture.
 Smartphones are the New Target
Cybersecurity trends of 2019 indicate a massive increase of approximately 50% for mobile banking ransomware, vulnerabilities, or attacks, making our handheld devices a target for hackers. Individuals' photos, texts, emails, and other crucial information such as financial transactions are exposed to high risks. As mobile banking ransomware and vulnerabilities continue to reach an all-time high, a virus or ransomware on a smartphone may capture the attention of cybersecurity trends in 2021.
Apart from this, data breaching will continue to be a leading concern for organizations and individuals as well all around the globe. This is because any unimportant flaw in your software is a potential vulnerability for hackers to access crucial and protected information.
Ransomware will Continue to Rule.
As ransomware shows no sign of slowing down, the world all around the globe expects to see more emails that entice you to click on treacherous links. Phishing methods may use crucial issues, strong emotional pull, or other subjects, such as early access to COVID-19 vaccinations, etc. In 2021, we all can expect more ransomware payloads delivered through phishing.
Apart from that, fake news will become second nature. Thus we need artificial intelligence along with improved deep learning in order to deal with such fake news. Moreover, the cost of cybercrime has also increased as a result of advanced hacker attacks and the ability to transform cryptocurrencies through ransomware.
Concluding Lines
If we talk about the Norton Cybersecurity Insights Report's findings, it suggests that around 30% of the audience are unable to recognize a phishing attack; 13 percent cannot distinguish between a real message and a phishing email. Moreover, approximately 70% of users want their home WiFi network to be more reliable and secure. Such insight indicates that Cybersecurity has been in high demand almost all around the globe, indicating there is a high demand for skilled cybersecurity professionals at present and will continue to increase in the foreseeable future.
If the domain of cybersecurity interests you, you can check out the best Cybersecurity courses and become a Certified professional.

To learn more about cybersecurity certification courses and become a Certified Cybersecurity Expert, check out Global Tech Council.