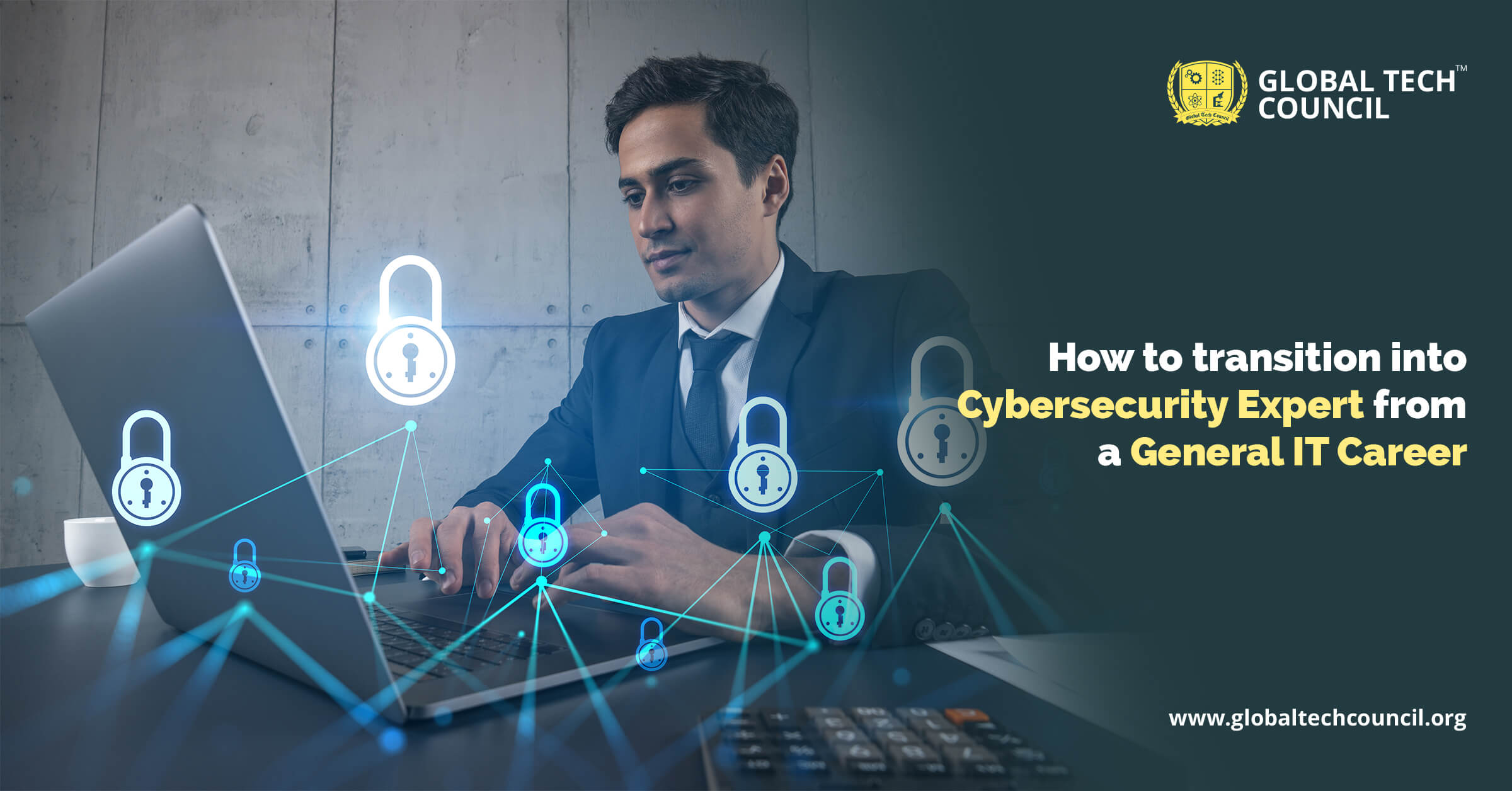 Are you interested in pursuing a degree in cybersecurity? Being a cybersecurity engineer, you can manage work in the public sector, retail, banking, and various other professions. However, cybersecurity is a professional field. That indicates you won't be able to begin your job as a cybersecurity professional right now. You'll need to start with essential IT and work your way up to security professions such as penetration analyst and security designer.
Table of Contents:
How to Plan this Transition?

Step 1: Decide Which Cybersecurity Profession you will Choose.
Step 2: Begin with a Simple IT Course
Step 3: Train yourself to concentrate on your passions
Step 4: Get hands-on Knowledge.

Types of IT Careers That May Route to a Cybersecurity Job Promotion.
What experiences are required for your CV?
How to Plan this Transition?
How do you decide to quit your regular IT job for the larger good? In this situation, this article can help you out. The shift from essential IT to a specialized professional can be difficult. For this reason, this article will assist you in getting started with a critical IT profession that can subsequently be changed into a specialized career.
We've compiled a collection of helpful hints, such as which IT professions to pursue, what to include on your resumes, how to obtain valuable hands-on skills, and general advice. So, let's begin:
Step 1: Decide Which Cybersecurity Profession you will Choose
When a student with IT experience considers the transfer to cybersecurity relatively simple, there is no specific entrance purpose into the field. Professionals or hobbyists can pursue a position in cybersecurity from a variety of areas, including computer science, literature, etc.
The most crucial thing is to provide a genuine curiosity about how new tech runs. Nonetheless, you must know and comprehend precisely what you're guarding and why those essential things must be protected.
Step 2: Begin with a Simple IT Course
Consider a typical IT job, maybe it's an apprenticeship, an internship, or full-time work in IT, to jumpstart your profession. This should aid you in grasping the foundations of system configuration and administration, database administration, network administration, and programming. You'll also master general IT policies and how they apply to real-world business situations.
Step 3: Train yourself to concentrate on your passions
You can't become a specialist in all the segments of cybersecurity. As a result, you must start with a hobby and expand from there. Numerous prominent companies urge newbies to concentrate on an area of expertise, such as internet security. For your future profession in cybersecurity, you must plan four to eight years before. Once you're qualified, you can begin searching for any entry-level IT careers in the business that will teach you the expertise you require. You must start by applying for a job like:
Web designer – The role of this job is to Aid in understanding network security and, eventually, the development of software security features.
Exchange supervisor – They aid in data security education.
System Operator – These are head in forensics as well as information security training.
Network security professional – responsibilities include network security, cyber forensics, and other related tasks.
Step 4: Get hands-on Knowledge.
Your new IT employment will provide you with numerous opportunities to get practical knowledge. Don't let this opportunity pass you by, and try to gain as much experience as possible. Even if you are not actively employed in the IT field, you can get valuable work experience by participating in mentoring courses and soul study.
Types of IT Careers That May Route to a Cybersecurity Job Promotion
Various IT jobs may assist you in making the switch to the cybersecurity profession. The key is to make sure that your preliminary IT positions provide you with some relevant experience. An essential qualification is in-depth computer expertise. Regardless, the majority of the knowledge you'll require will be gained in the workplace. The following are a few IT positions that will help you transition to a new career:
Computer Systems Analyst
IT Technician
Network Administrator
Network Systems And Data Analyst
Web Administrator
Computer Programmer
Database Administrator
Computer Software Engineer
IT Technical Support
Network Engineer
Computer Support Specialist
System Administrator
IT Customer Support
It's best to discuss the possibility of studying cybersecurity principles while working in general IT with your networks or a recruiting agency.
What experiences are required for your CV?
Programming and coding skills including:
Python, PHP, Perl, shell, and Ruby.
Java, C++, c, and C#
Linux as well as MAC Bash shell scripting
Disassemblers and Assembly language
Network security training fields like:
System and network configuration
Visualization software
Packet analysis tools
Packetshaper as well as Load Balancer
TCP/IP
Network protocols
Computer networking
Routing and switching
Proxy Server knowledge
Firewalls
Intrusion detection, including prevention protocols.
VPNs
Should keep knowledge of:
Operating Systems like
Database management like
MySQL/SQLite environments
Apart from all the skills mentioned above, candidates should also keep good knowledge of
Cyber Policy Analyst
Network Administrator
SOC Analyst
Technical Writer
Vulnerability Analyst
Along with all this expertise, you would also require a certified degree. When you have a certification from a reputed organization, it paves your way in proving that you have learned crucial and beneficial project work. It makes you more authentic for research, presentation, and business roles. If you are looking for an institution that fits that requirement, we think the Global Tech Council can be a perfect match. They not only provide a variety of Cybersecurity certifications but are also highly reputed in the industry.
Conclusion
That was all for this article which will guide you on smoothly transitioning from an IT career to cybersecurity. We hope this article was helpful to you.