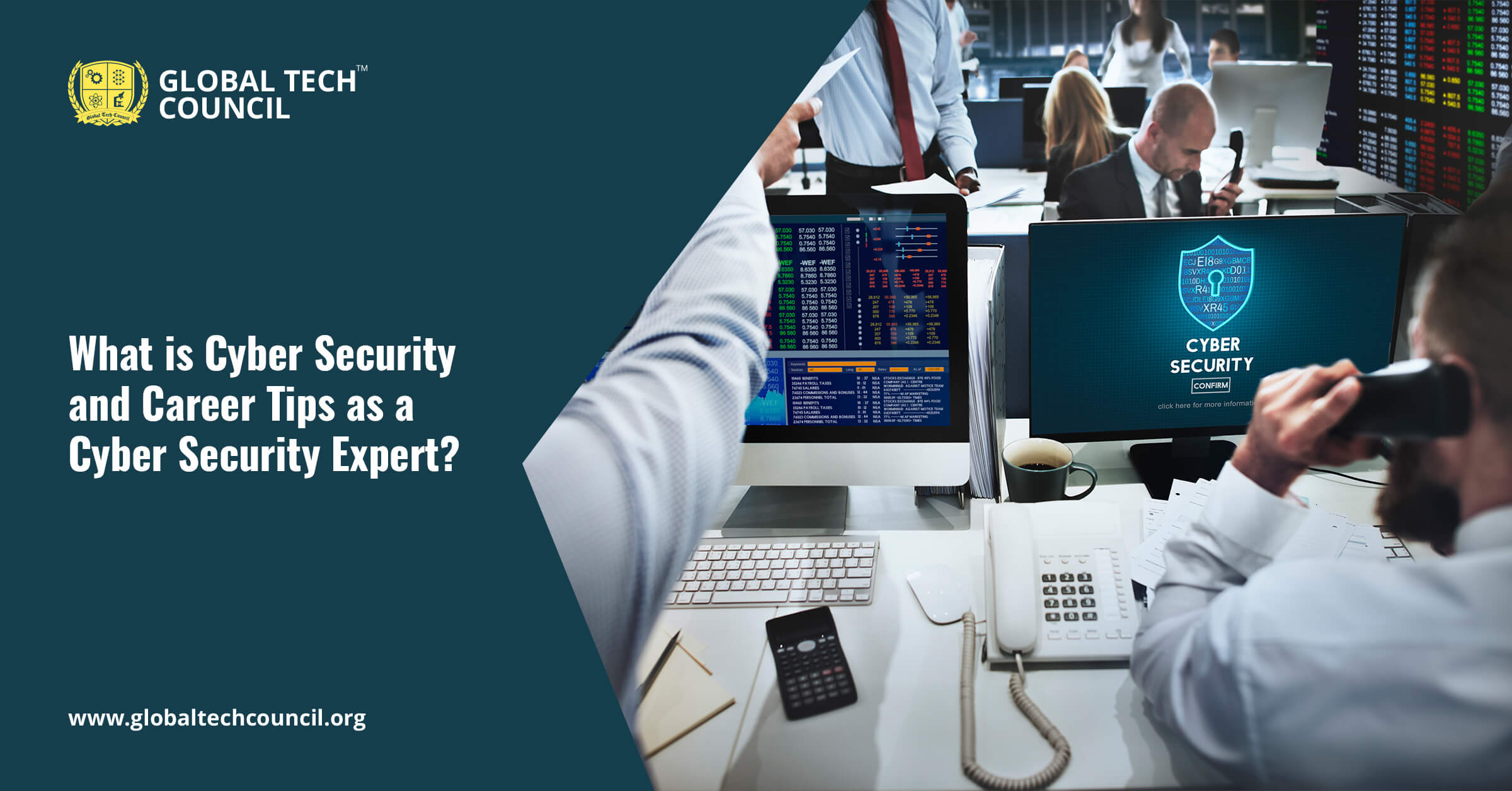 Cyber dangers can originate at any stage of your company. Employers can easily teach Typical social-technical schemes like phishing to their employees. As well as more complex cyber security assaults. Like ransomware and other software meant to scam intellectual assets or private information. Cyber security is critical because it safeguards all data types against stolen and harm—confidential information, sensitive personal details, protected healthcare information, personal information, trade secrets, statistics. And judicial and commercial information systems all fall under this category. Your company won't protect itself from a cyber attack unless it has a cyber security program in place. Today in our post, we will learn about What is Cyber provides Security? And we will also share some regarded career tips.
What do you mean by Cyber Security?
Cybersecurity refers to the safeguarding of internet-connected technologies. These technologies include hardware, firmware, and information from cyber threats that individuals and businesses utilize. Mainly to prevent illegal access to information centers and other electronic systems.
A solid cybersecurity approach can give a robust defense capability against hostile attacks. These attacks generally target access to, altering, deleting, destroying data. Extorting critical data from a firm's or individual's servers also includes. Cybersecurity is also essential in countering hacks that seek to harm or impair the operation of a system or technology.
Why do we need Cyber Security?
The necessity of cybersecurity is further increasing as our world is more digitally in sync than ever, and this tendency shows no signs of slowing. Data breaches that might lead to identity fraud are increasingly shared openly on social networking sites. Furthermore, social security credentials, credit card credentials, and bank profile information are now kept in cloud storage platforms, and the names include platforms like Google Drive and Dropbox. To maintain and preserve these platforms safe from hackers, cyber security is essential.
What tools and technologies do Cyber Security Professional companies use?
Cybersecurity companies generally provide a wide range of security tools and services. The following are examples of standard security technologies and systems:
Identity and access management
Virtual private networks
Firewalls
Intrusion prevention
Encryption tools
Detection systems
Endpoint protection
Antimalware
Data loss prevention
Security information and event management
Endpoint detection and response
Vulnerability scanners
What are the most pressing cybersecurity issues?
Attackers, information leakage, security, risk control, and evolving cybersecurity tactics. They are all constant cybersecurity threats. The frequency of cyberattacks is unlikely to diminish very soon. Furthermore, increasing attack access points, including the internet of things. Enhance the requirement to safeguard computers and systems.
Furthermore, the ever-changing complexity of security vulnerabilities which is among the most challenging aspects of cybersecurity. New offensive channels arise as emerging technologies arrive. This can be difficult to keep pace with the rapid innovations and developments in assaults. And also to update strategies to guard against them. Among the issues is guaranteeing that all aspects of cybersecurity are kept up to date and defend against possible risks. Smaller businesses without personnel or in-house facilities may find this particularly tough.
How to Become a Cyber Security Expert?
Cyber security experts make and implement security protocols of technology hardware and firmware systems. They further ensure that the systems work as they should and protect from assault. Let's see some requirements to become a cyber security expert –
Degree:
Like many other cybersecurity occupations, most cybersecurity expert positions need some sort of academic education. Similarly, individuals with a cybersecurity associate's teaching like a master's degree or bachelor's degree can work as cybersecurity specialists. Furthermore, many cybersecurity specialists have found jobs. After earning degrees in maths, engineering, or computer science.
Professional Certifications:
Like in several different cybersecurity job pathways, earning the appropriate professional certification or approvals. It is a crucial step in professional growth. It's a good idea to start researching what qualifications an employer could demand. Or what credentials help job seekers be more competitive in their sector. Here are examples of few Cyber Security Training Certification –
Network + is also offered by CompTIA-
The network connectivity plus functions are the emphases of this certification. It is also regarded as an essential qualification.
Security+ is a CompTIA certification – among cybersecurity experts, it is regarded as a foundational certification.
The Certified Information Systems Security Professional (CISSP)-
It is a much more specialized certification course for cybersecurity experts. Especially for those who have worked for nearly five or more years.
Networking and Communication-
It's an intelligent strategy to seek methods to expand your professional network. There are a variety of specialized cybersecurity organizations, which associated with a network-oriented approach. That is primarily geared to notify members regarding job vacancies and training opportunities.
Working Experience-
Having relevant work experience is also another critical part. This can help you in finding employment as a cybersecurity professional. This might be in the manner of a formal internship or other academic hands-on training. Or it can be in the shape of different relevant job experiences.
Conclusion
So this was all about the topic. In a nutshell, we can say that as technology is developing, the risk of data security is also increasing. And to safeguard this data from getting hacked, cybersecurity specialists are required. This requirement for cybersecurity clearly shows their demand in today's market. If you want to become a cybersecurity expert, follow our post as we have mentioned all the required things. Many firms provide cybersecurity training online. You can even get your certification courses from there.