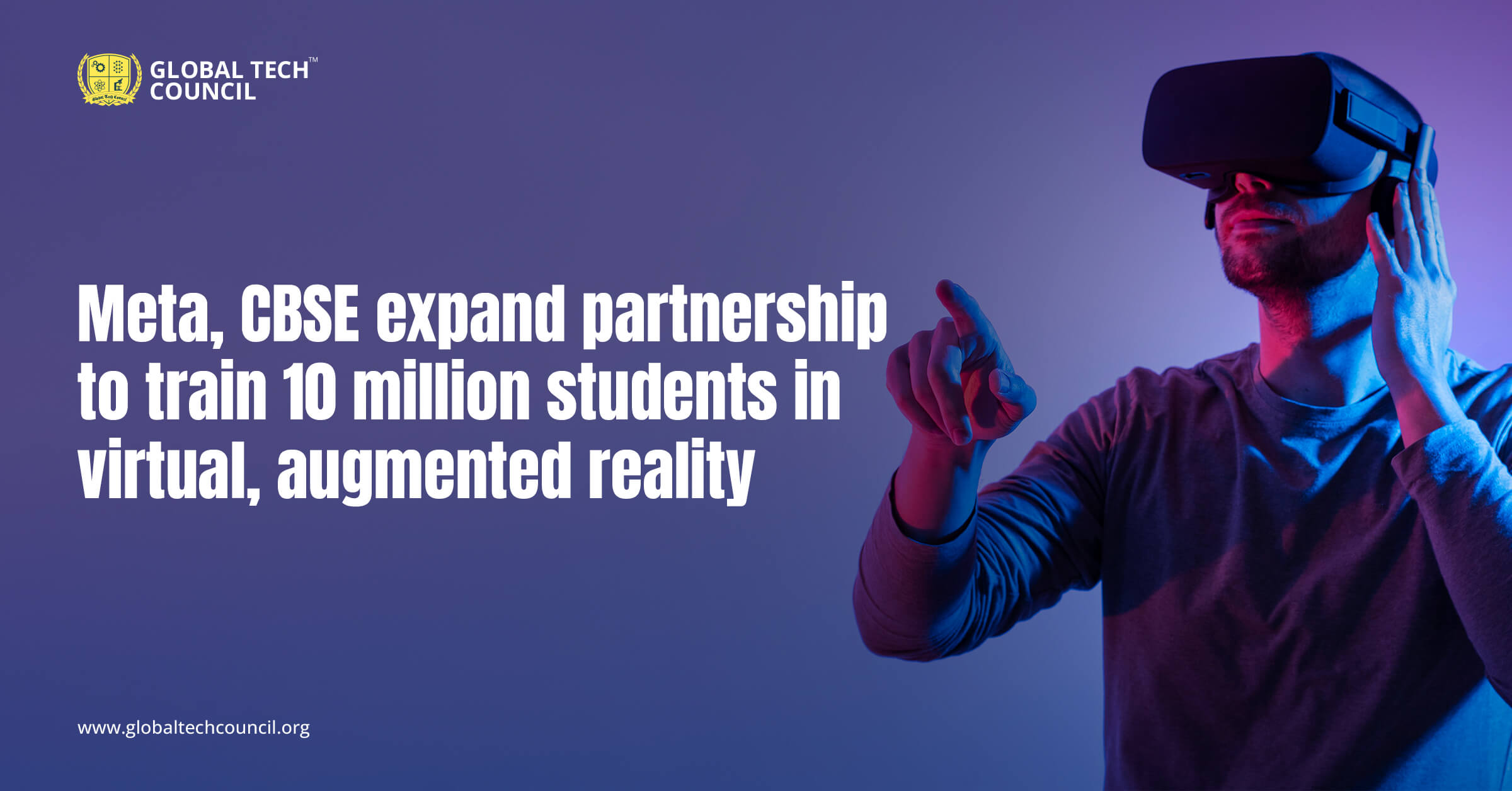 The news about the collaboration of Meta, formerly known as Facebook, with CBSE is making a buzz among students, parents, and the education system. As per the news, Meta will be training more than 10 million students along with 1 million teachers in India. Here, officials say that the new system will be using augmented reality and virtual reality to provide an immersive experience to learners. Another thing to note is their claim to maintain online wellbeing and digital safety. 
However, due to the previous data privacy issues of Facebook, many are speculating on this collaboration. On the other hand, we are also seeing some supporters who believe that this calibration is a futuristic education system.
So let's learn more about this new announcement.
More about the collaboration
Meta and CBSE are planning to democratize the curriculum activities of High school. For this, they allow learners to excess reliable and quality academic online content via modules. Further, students can access this module from the official website of CBSE. This is the main partnership part of Meta with CBSE.
Further, the collaboration will focus on content curation and curriculum development by integrating emerging technologies. For example, they will be using virtual reality and augmented reality aspects relevant to developing digital space by launching them as skills subjects for learners.
Dr. Biswajit Saha, who is the director of skills education and training CBSE, states that this collaboration will be especially beneficial for Indian teachers. This is because teachers gain essential skills that will help them employ available online tools to effectively increase student engagement.
Further, he said, as India is going digital along with the world, CBSE wants to build digitally savvy citizens. Hence it is possible by introducing digital technologies like AR in the educational curriculum. And ensuring to provide more efficient educational content for everyone.
On the other hand, the vice president and managing director of Facebook India, Ajit Mohan, agrees with the above statement. Further, he believes that this practice can increase student engagement effectively. He further says the main reason for uniting with CBSE, India is to democratize education for each and every student and teacher.
What are the benefits of this collaboration?
Officials are claiming that there are immense benefits to this collaboration. Starting from immersive education, enabling learners with diverse learning challenges to access the quality resources in a more engaging manner.
Furthermore, CBSE officials claim that they want to reach students in underserved areas of India. For this, they will establish community skill centers for enabling students to access this new-age skills set. Also, they claim that it will help students become creators in the digital economy space with access to multiple resources.
How are policymakers playing role in accelerating the adoption of augmented and virtual reality in education?
Observers say that policymakers can play an important role in stimulating the adoption of AR and VR technologies in academics. They can help in research investment to find out best practices to maintain safety concerns and oversee age-appropriate use of digital content.
Further, they will help in creating resources and providing guidance to implement this technology into initiatives for Digital literacy. Hence, it will help educators diminish the "learning curve" for their diverse student base.
Furthermore, they will accelerate the development of age-appropriate, quality, and relevant academic content. Here, policymakers can invest in government educational content for the expansion of AR and VR advancement in universities and colleges. Hence they will support by expanding access to augmented and virtual reality applications. However, there is always space for speculation for these claims.
What are the proven roles augmented and virtual reality are playing in the education system?
Interestingly, researchers have been putting efforts and their knowledge into exploring the advantages of AR/VR technologies in the area of education as early as the 1990s. As a researcher, augmented and virtual reality is promising advancements in education technology's evolving space.
Furthermore, they are capable of sharing information in a more engaging manner. Aside from this, they can potentially offer virtual experiences that can expand students' and teachers' access to educational opportunities regardless of their geographical location.
Moreover, due to their fast adoption, companies are offering AR and VR devices at affordable rates for academic establishments. Hence, a wide range of educational departments can implement these technologies in their classroom. However, in the case of Metaverse, officials say that AR and VR devices are not necessary. But, users who have AR and VR devices can access Metaverse.
However, the inclusion of Metaverse technology will go beyond any limits that current virtual or augmented reality technologies are facing. These technologies come with a broad range of capabilities to offer accurate information in a more interactive manner which was not possible before. But, it is also true that even big technology companies are not fully aware of the potential of Metaverse. However, the available information they have can be enough to revolutionize the current education system.
Conclusion
The main intent of using these technologies in the education system is to fill in the gaps between current knowledge and available content. Here, AR and VR aspects of Metaverse in education provide appropriate opportunities and resources to instructors for developing knowledge and skills they need to use these technologies successfully. However,
with more researches and exploration for the potential of Metaverse, we can expect new advancements in the education system if this collaboration becomes successful.