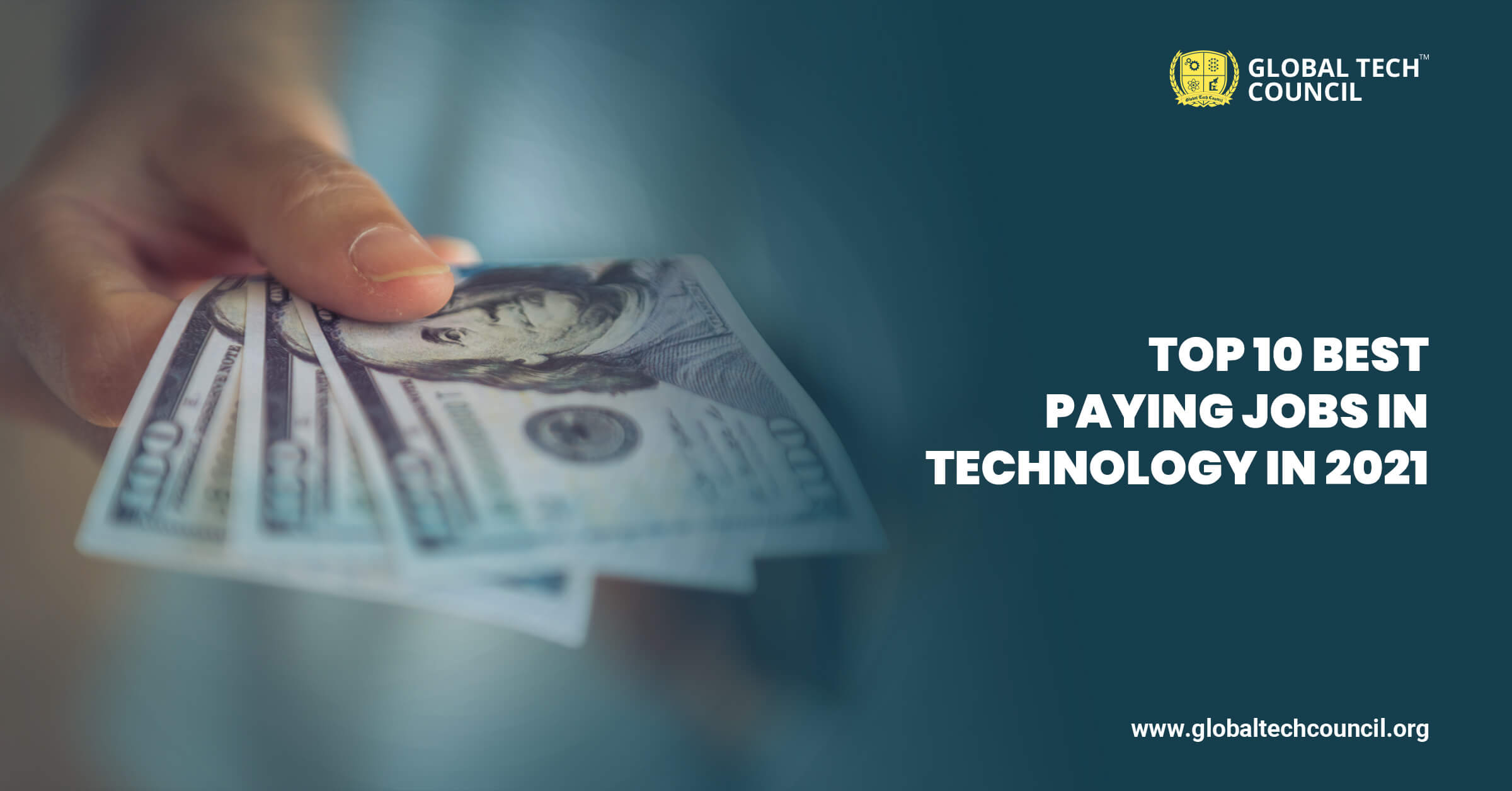 Technology is evolving very rapidly. With this evolution, there is a high demand for IT professionals. As the future belongs to technology, this rapid digital transformation has created the enormous availability of the highest-paying jobs in technology.
If you are interested in making your career in technology, make sure that you have sound knowledge of the technology.
So, without waiting anymore, have a look at the following highest paying jobs in the IT sector:
Data Scientist
No doubt, Data scientist is one of the best top paying technology jobs. A data scientist analyzes and interprets complex data to help organizations make better and more timely decisions. A data scientist earns around $150,000 per annum.
Skills Required by Data Scientist
Knowledge of Machine Learning Algorithms
Coding Languages like Python
Able to Make Data Models
Internet of Things (IoT) Solutions Architect
With the rapidly increasing applications of IoT in our daily lives, the demand for IoT professionals is increasing day by day. An IoT solutions architect is responsible for overseeing the strategy behind the development and deployment of IoT solutions. The average salary of an IoT Solutions Architect is around $130,000 per annum.
Skills Required by IoT Solutions Architect
Knowledge of Machine Learning
Programming Skills
Understanding of Hardware Design
Blockchain Engineer
A blockchain engineer is responsible for designing, assigning, and connecting various organizations' blockchain infrastructure components. With increasing applications of blockchain technology, most industries are adopting blockchain technology, and hence, blockchain engineers are high in demand. The average salary of a blockchain engineer is $110,000 per annum.
Artificial Intelligence Engineer
An artificial intelligence engineer is responsible for developing and managing AI initiatives for the organization. As AI technology evolves continuously, the demand for skilled AI engineers is also increasing day by day. The average salary of an AI engineer is $110,000 per annum.
Skills Required by AI Engineer
Programming Skills
Mathematical & Analytical Skills
Software Architect
A software architect is responsible for developing, designing, and implementing software solutions. They are usually in charge of providing architectural blueprints and technical leadership, evaluating and recommending tools and technologies, and troubleshooting code-level problems efficiently and quickly.
The average salary of a Software Architect is $114,000 per annum.
Skills Required by Software Architect
Data Modelling
Knowledge of Software Architecture
Programming Skills
Analytical Skills
Product Manager
The strong organizational, communication, budgeting, leadership, and problem-solving skills of product managers are needed in various industries, including information technology. They help in determining the parameter around the product and lead the development of that product. The average salary of a product manager is $100,000 per annum.
Skills Required by Product Manager
Knowledge of Product Management Tools
Understanding of the Concept of Product Lifecycle Management
Strong Analytical Skills
Cloud Architect
Cloud architects oversee the organization's cloud computing systems and are responsible for managing and deploying cloud applications. A cloud architect must have a strong knowledge of cloud services along with networking and programming.
A cloud architect can earn up to $107,000 per annum.
Skills Required by Cloud Architect
Thorough Knowledge of Cloud Technologies and Architectural Principles
Knowledge of Different Cloud Applications
DevOps Architect
DevOps engineers manage IT infrastructure, provision resources, oversee software testing, and monitor performance after release. They help simplify code updates, enabling the companies to improve processes in the organization for maximum efficiency. The average salary of a DevOps Architect is $120,000 per annum.
Skills Required by DevOps Architect
Coding & Scripting Skills
Automation & Data Management Skills
Understanding of DevOps Practices
Full-Stack Developer
A Full-Stack Developer is a software expert who can handle both front-end and back-end development. His roles and responsibilities are to design user interactions on websites, develop servers, and databases for the functionality of a website. The average salary of a Full-Stack Developer is $106,000 per annum.
Skills Required by Full-Stack Developer
Coding & Scripting
Fundamentals of Web Development
Basic Knowledge of Database Technologies
Cybersecurity Specialist
There's a high risk of cyber threats with digitization, which creates a high demand for cybersecurity specialists. A Cybersecurity Specialist is responsible for protecting the company's sensitive data from threats such as hackers or viruses. The average salary of a cybersecurity specialist is $134,928 per annum.
Skills Required by Cybersecurity Specialist
Proficiency in Programming Languages
Hacking Skills
Knowledge of Security Audit & Compliance
Problem Solving Skills
Enhance Your Skills with Certifications
Earlier, there were limited job opportunities that needed high professional skills, but nowadays, there are ample opportunities, and people can even enroll in certification courses while working. But the need for proper and professional certification courses is still the same.
Although there are many career opportunities available today in the IT sector, all these jobs pay well if you are knowledgeable and well certified. Nowadays, there are many online certificate programs available, and you can enroll in them to enhance your skills for further growth. 
To grab your dream job with a handsome pay scale, don't waste your time anymore. Just start learning now.
Takeaway
Although there are many other technology jobs available other than the best jobs listed above, they all need proper knowledge and professional certificates to increase your value and skillset. Each job requires a particular skill set, which you can only acquire by learning. Therefore, IT professionals need to be committed to continuous growth and development throughout their careers to reach and sustain peak earning power.
Enroll in professional certification programs and learn techniques to get the most out of them.