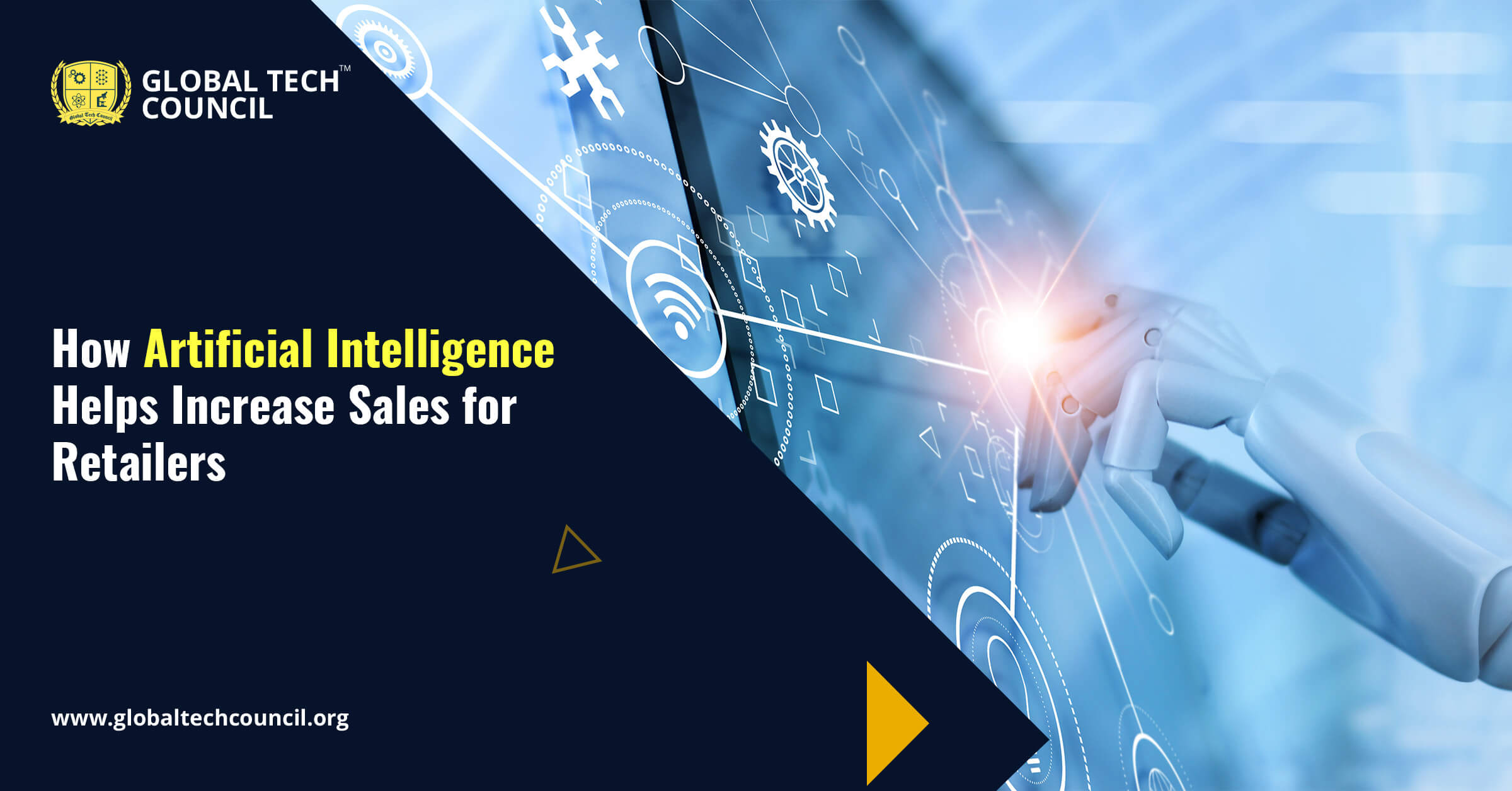 Classical statistics have served the information retail sector admirably for centuries. Artificial Intelligence (AI), as well as Machine Learning (ML), have, on the other hand, opened up a whole new level of information analysis that contributes to more in-depth business processes. By identifying irregularities and relationships from thousands of Artificial Intelligence and Machine Learning models, computer programmers could create a whole new universe of opportunities for company owners.
Table of Contents:
How Retailers Can Increase Sales by Using AI

Stores may be able to operate without a cashier –
AI-based Inventory Administration –
Chatbots will aid service Provider Assistance –
Conversational Support –
Attractive Pricing with Artificial Intelligence –
Ai Based Supply Chain Management-
Forecasting of consumer behavior with Artificial intelligence-

Conclusion
How Retailers Can Increase Sales by Using AI
There is specific evidence that indicates how AI developer could improve sales of retail businesses. All of these instances were obtained from real-life situations. For example, a system for making product recommendations was created by recording a customer's position and behaviors in a shop. Its goal was to increase sales for business owners while also optimizing the buyer experience by making intelligent recommendations.
If you think about how you could also benefit from artificial intelligence in your sales, keep reading this article. We are going to mention some points which you may find helpful in growing your business sales.
Stores may be able to operate without a cashier –
An Ai certification-based robot or mechanism will reduce queues, cut the volume of human personnel, and save money on operating costs. Amazon AI has already implemented Checkout-free retailers. Whenever you take anything from the rack or put it back, the Amazon Go and Just Walk Out Shopping software responds. Once you leave the store with your transactions, your Amazon account will automatically debit your balance. Amazon intends to open more AI-powered stores, such as Amazon Go, where just eight to twelve regular employees are required.
AI-based Inventory Administration –
Artificial intelligence (AI) in retailing is improving demand forecasts. AI-based business intelligence systems foresee market movements and make aggressive improvements to a sales department, merchandising, and business tactics by collecting information from the global market, customer, and competition data. This has ramifications for supply chain management, sales prices, as well as marketing planning.
Chatbots will aid service Provider Assistance –
One of the most innovative and helpful devices made till now with the help of artificial intelligence is a chatbot. Chatbots boost consumer service by improving search, sending updates concerning the latest offers and new stocks, and suggesting related products. For instance, if a buyer has already purchased a black hoodie, a chatbot can recommend a beanie to complement the appearance. Eighty percent of companies around the globe are now utilizing AI chatbots or plan to do so in the coming years. The primary purpose of a chatbot is to assist its clients in navigating their products. Tommy Hilfiger and Burberry are few companies that have already launched chatbots for incrementing sales.
Conversational Support –
Interactional assistants are another creation by artificial intelligence experts. These modern Ai based technologies use natural and native language processing to guide customers through queries, FAQs, and fault detection. These Ai-based assistants also help customers by redirecting them to human expert groups when necessary. With this innovative method, many firms improve their customer's experience by providing products according to their demand. Another significant advantage of using such assistance is that there is always available guidance while streamlining recruitment.
Attractive Pricing with Artificial Intelligence –
Artificial intelligence developers in retail shops could aid in the proper pricing of items by showing the anticipated results of various pricing schemes. This computer-based system gathers information on multiple items, advertising efforts, sales numbers, and other statistics to carry out the whole task. As a result, retail shop owners can showcase the best deals to attract potential buyers and increase revenue. For example, companies like eBay and Kroger both use this Artificial Intelligence-based pricing method to improve their pricing and stay engaged in their capacity to modify rates and offers based on the data they collect.
Ai Based Supply Chain Management-
From the past few kinds of research, it is seen that many shop owners are losing vast amounts of money every year due to lack of proper management of this department. It is possible to remove leftovers as well as out-stock situations. Artificial intelligence-based technologies can be used for refilling or restocking goods, which involves accurate assessment of demand for certain goods based on past sales, region, climate, popularity, offers, and other factors. With the help of this modern super-efficient technology, many firms have improved their stock management and restocking. It led to the dramatic drop of up to thirty percent in-store shelf spaces.
Forecasting of consumer behavior with Artificial intelligence-
Company owners can apply behavioral economics to create a personally tailored response to each buyer using artificial intelligence technologies. There are specific ai based platforms that evaluate each buyer's psychology and moods to boost sales. The methodology uses emotional reactions and consumer behavior throughout prior purchasing experiences to generate the best pricing recommendations for each visitor.
Conclusion
With the help of Artificial Intelligence-based technologies, every retailer can increase their sales and make a good profit in competitive markets. If you want to learn AI from a team of experts, Global Tech Council is the perfect place to start. I hope this article has helped you gain all the information about how Ai can help a retail shop owner make profits in every possible way.