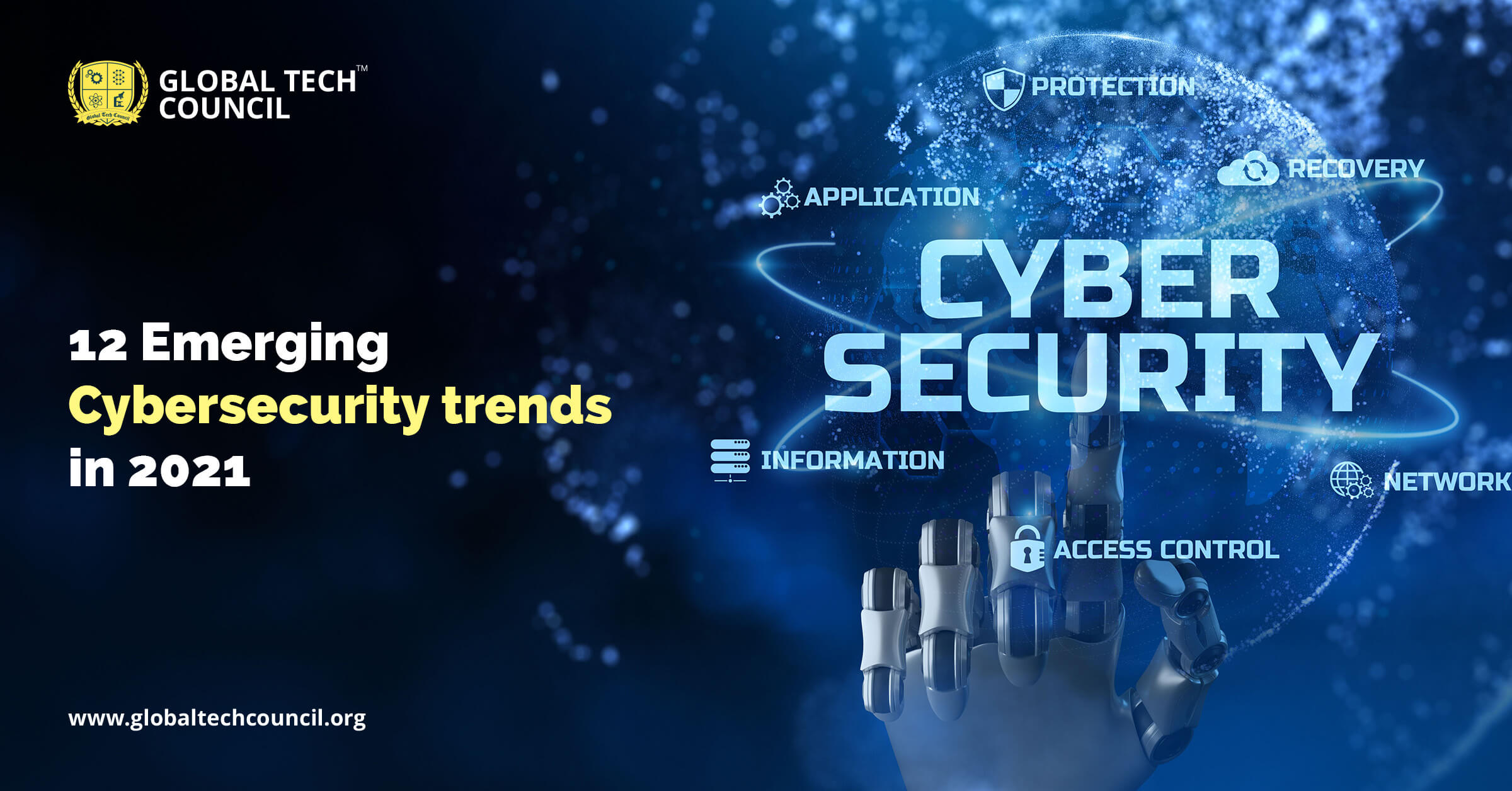 The expansion of technology is nothing new, but it has undoubtedly been taken to a new height in the last few years. This pandemic and lockdown also work as a positive catalyst to increase technology in every possible field. Nowadays, almost everything is working virtually. Technology is present in every area, starting from media to household applications or even the health care sector to R&D. This vast network has a substantial amount of data and users. This increases the scope of cyber-attacks and concerns over cyber-security. In this post, we will be discussing the 12 emerging trends of cyber-security in 2021.
Table of Contents:
12 Emerging Cyber-security Trends:
1. Remote Work:
2. Ransomware Attacks:
3. Multi-Factor Authentication:
4. Artificial Intelligence:
5. Cloud Usage:
6. Cyber Insurance:
7. Chief Security Officer:
8. Insider Threats:
9. Cyber-security startup:
10. IoT and 5G:
11. Zero Trust Framework:
12. Digital Acceleration:
Conclusion:
12 Emerging Cyber-security Trends:
Below are some of the emerging cybersecurity trends of 2021.
1. Remote Work:
Covid-19 pushes the majority of businesses, institutions, and other working fields to shift for remote work. Many new companies, institutions, and IT farms need to change towards the remote working fields in a hurry and without proper planning to keep the job running. This unplanned shifting results in side-stepping the security measures and increases the risk and vulnerability. It's become a trend to bypass the security measure for quick access, expanding the cyber-crime.
2. Ransomware Attacks:
In this era of technology, ransomware attacks have become a concerning trend. According to experts, the average costing of a ransomware attack in 2020 was 4.44 million dollars, which was higher than the average cost of a data breach.
3. Multi-Factor Authentication:
Multi-Factor authentication can look like an efficient and better cyber-security measure, but this trend also forces users to have more gadgets for confirming their identity. So this trend helps to increase the scope of cyber-crime. Furthermore, as telephone networks have weak security, Microsoft recently urged users to stop using multi-factor authentication. So people need to be aware of this trend and stop thinking of this as better cyber-security practice.
4. Artificial Intelligence:
Artificial Intelligence or AI is surrounding our lives rapidly. As of 2021, companies increase the making of AI-based products because of their efficiency and popularity. Unfortunately, cyber-criminals are also taking the help of AI to conduct their cyber-attacks. Cyber-security professionals can help to stop these AI-based cyber-attacks. According to research, the organizations who fully deployed AI technology, still suffering from data breaches, could save 3.58 million dollars more than the organizations who suffered data breaches but do not have AI-based technology.
5. Cloud Usage:
Using the cloud is also a trend of this time. Businesses are adopting cloud-based processes. However, despite having numerous advantages like efficiency, cost-effectiveness, and much more, the cloud is highly vulnerable. As a result, the cloud remains a prime target for cyber-attacker. According to experts, this considerable migration to the cloud increased the data breach cost by $267469.
6. Cyber Insurance:
Because of the increasing number of cyber-attacks, cyber insurance has become a trend. All the organizations are buying cyber insurance to protect them from cyber-attacks. The increase of cyber-attacks during the covid-19 pandemic caused a sharp rise in cyber coverage.
7. Chief Security Officer:
It is now a trend to have a Chief Security Officer or CSO for companies. This is because organizations are more concerned about their security than before. So this trend widens the area of the job as well.
8. Insider Threats:
Insider threats become ordinary day by day. The remote-only hiring enables all the people worldwide to work for the company, which is the biggest reason for this increasing insider threat. According to reports, 15% to 25% of data breaches are caused by trusted business partners. It is becoming a trend and the biggest concern.
9. Cyber-security startup:
Because of all these increased risks and attacks, it becomes a trend to start a cyber-security startup. Many cyber-security startups have already become unicorns in a concise time. This motivates others to land a cyber-security startup as well.
10. IoT and 5G:
In 2021, cyber-attacks on various IoT devices will become a trend, which is expected to worsen shortly. In 2021 more devices will be directly connected with the 5G network, increasing the risk as this connection will make the gadgets defenseless against any direct cyber-attacks. This trend will increase infrastructure instability.
11. Zero Trust Framework:
Because of this work from home, firms relied on VPN for more security, increasing cyber-attacks and hampered productivity. An unauthorized user can quickly access the entire network through a VPN. This problem leads to the adoption of the Zero Trust Framework called ZTNA. It decreases the cyber-attack surface, improves connectivity, and gives a more secure network to the user. This is the new trend. According to Gartner, 60% of companies will replace VPN with ZTNA by the end of 2023.
12. Digital Acceleration:
Work from home works more profitable for organizations. This model saves money, resources and increases productivity. The company need not bear any extra cost of rent, transportation, food, cleaning, power usage, or any other employee facility-related cost. Thus they can save huge money. Because of this, it has become a trend for companies to adopt this work-from-home model.
Conclusion:
These trends also show the necessity of a Certified Network Security Engineer and network security professional. People can also enroll in network security certifications courses that may help them get a job as a network security engineer if they are looking for an excellent institute to learn more about cybersecurity and become a cyber expert. You should visit Global Tech Council and check their free trial courses to learn more.