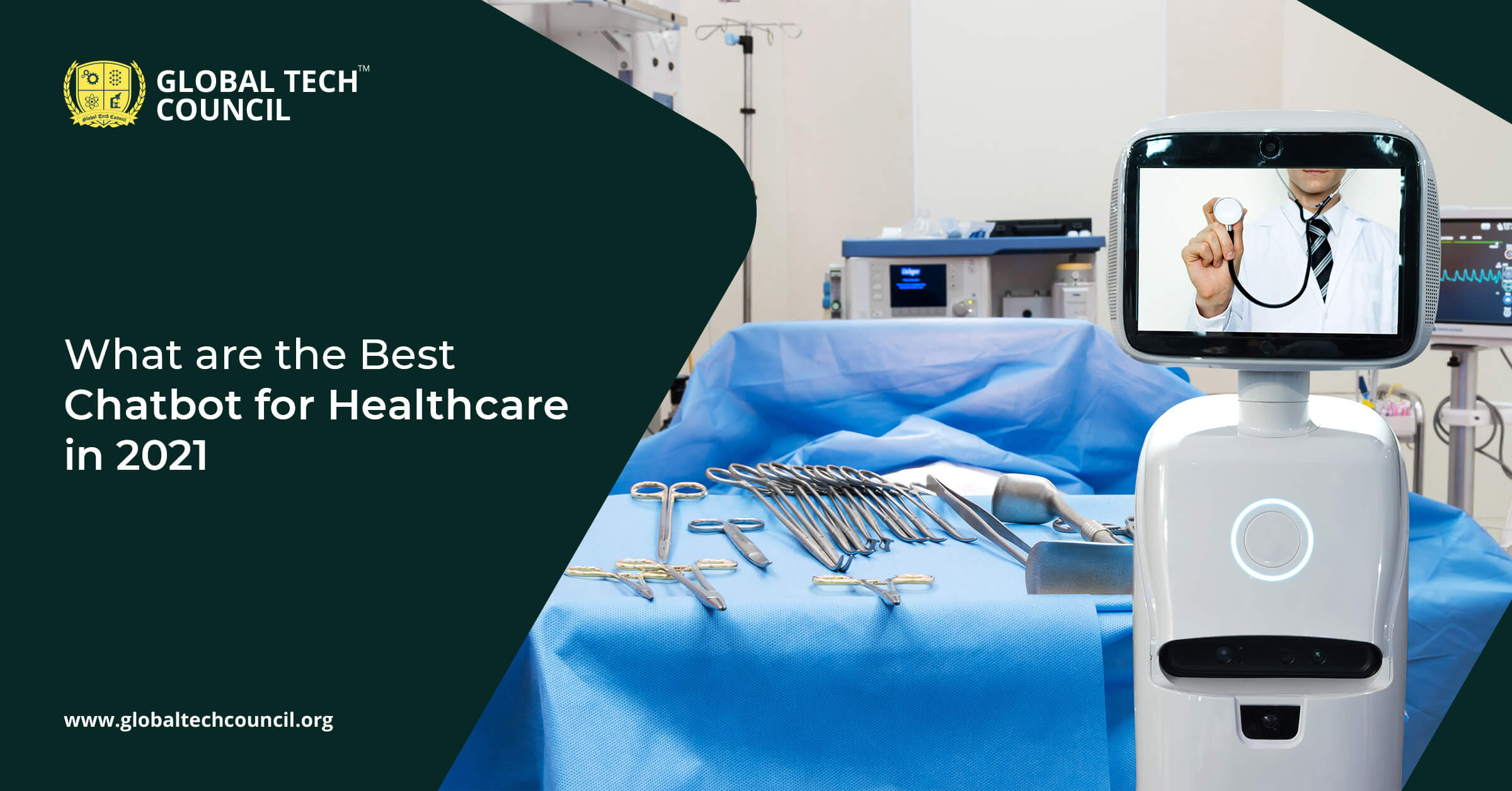 Wondering what role chatbots can play in the healthcare industry? What are the best health chatbots of 2021? Well, we have got you covered.
Table of Contents
Why Use Chatbots in Healthcare Industry
Top Health Chatbots for 2021
Concluding Lines
Why Use Chatbots in Healthcare Industry
Healthcare chatbots are conversational agents that aim to simplify interactions between patients and healthcare professionals in order to provide medical advice and enhance the customer experience. Apart from this, chatbots allow the automation of several management tasks in overloaded healthcare systems, which results in overall enhanced efficiency and productivity rates.
Chatbots in the healthcare sector helps in several ways, such as:
provide medical information
schedule medical appointments
collect patient data
handle insurance inquiries
mental health assistance
request prescription refills
If you want to develop a chatbot or want to know more about chatbot certifications, check out Global Tech Council.
Top Health Chatbots for 2021
In this section, let's explore how healthcare chatbots are helping the general public.
World Health Organization Alert Chatbot
As the COVID-19 pandemic has bought havoc on the entire globe, the population is seeking online help in order to deal with it. Also, the pandemic has driven a need for AI-based chatbots to provide assistance without risking healthcare professionals. Launched in 2020, WHO introduced an alert chatbot that works on Whatsapp and Facebook to help people protect themselves from this deadly disease, prevent its spread, and understand the facts linked to it.
This chatbot is user-friendly, i.e., by using keyword and emoji commands, people can select from several topic options to learn about the virus and how to prevent its spread. In addition, the chatbot also provides the latest information related to active cases, Mythbusters, travel advice, donation options, and much more. 
OneRemission
Launched by a New York-based company, this chatbot aims to ease the lives of cancer survivors with the information they need.
The app empowers patients by providing a comprehensive list of diet plans, exercises, and post-cancer actions, which is compiled by medicine experts so that patients don't have to depend on a doctor all of the time. Unlike traditional techniques where patients have to wait for their appointment for the help of a specialist, OneRemission offers 24/7 online consultancy with an oncologist.
Youper
Another AI-powered chatbot that aims to improve human health is Youper. It aims to monitor and improve users' emotional health by helping them overcome anxiety and depression with personalized plans and medications. This chatbot is known to utilize psychological techniques to monitor and improve the emotional health of millions of people immediately. With regular conversation, Youper can learn more about the patients and provide a better solution in terms of emotional health.
Florence
It is a health assistant that helps patients across the world that don't take medication as prescribed by their doctors and therefore endanger their health. Florence reminds patients to take their pills and works on Facebook Messenger, Skype, or Kik. All one has to do is enter the name of the medicine and mention at what time you have to take medicine as prescribed by the doctor or physician. Moreover, this chatbot keeps track of patients' health and helps them reach their goals.
HealthTap
Founded in 2010, it is an AI-powered chatbot that aims to make medical information accessible to all. Thus, in order to make its mission possible, HealthTap has created a chatbot that is connected to Facebook Messenger. Here, with the help of this mobile application, patients can ask their health-related questions, which are then reviewed and answered by healthcare professionals. The best part is that it gathers around 6000 physicians and 600 healthcare institutions and guarantees solutions to health issues in real-time accurately. In addition, this chat also offers live video consultation on the app if needed.
Want to become a Certified Chatbot Developer? Get started today with Global Tech Council.
Concluding Lines
While there are many chatbots available to assist patients in several ways, they all vary in terms of the features they offer. However, for a good chatbot, it is essential that it has easy integration and is affordable at the same time.
As chatbots are becoming popular, there are upsurging demands for chatbot developers and experts. If the domain of chatbots interests you, get started as a Certified Chatbot Developer and be ready for rewarding career opportunities.