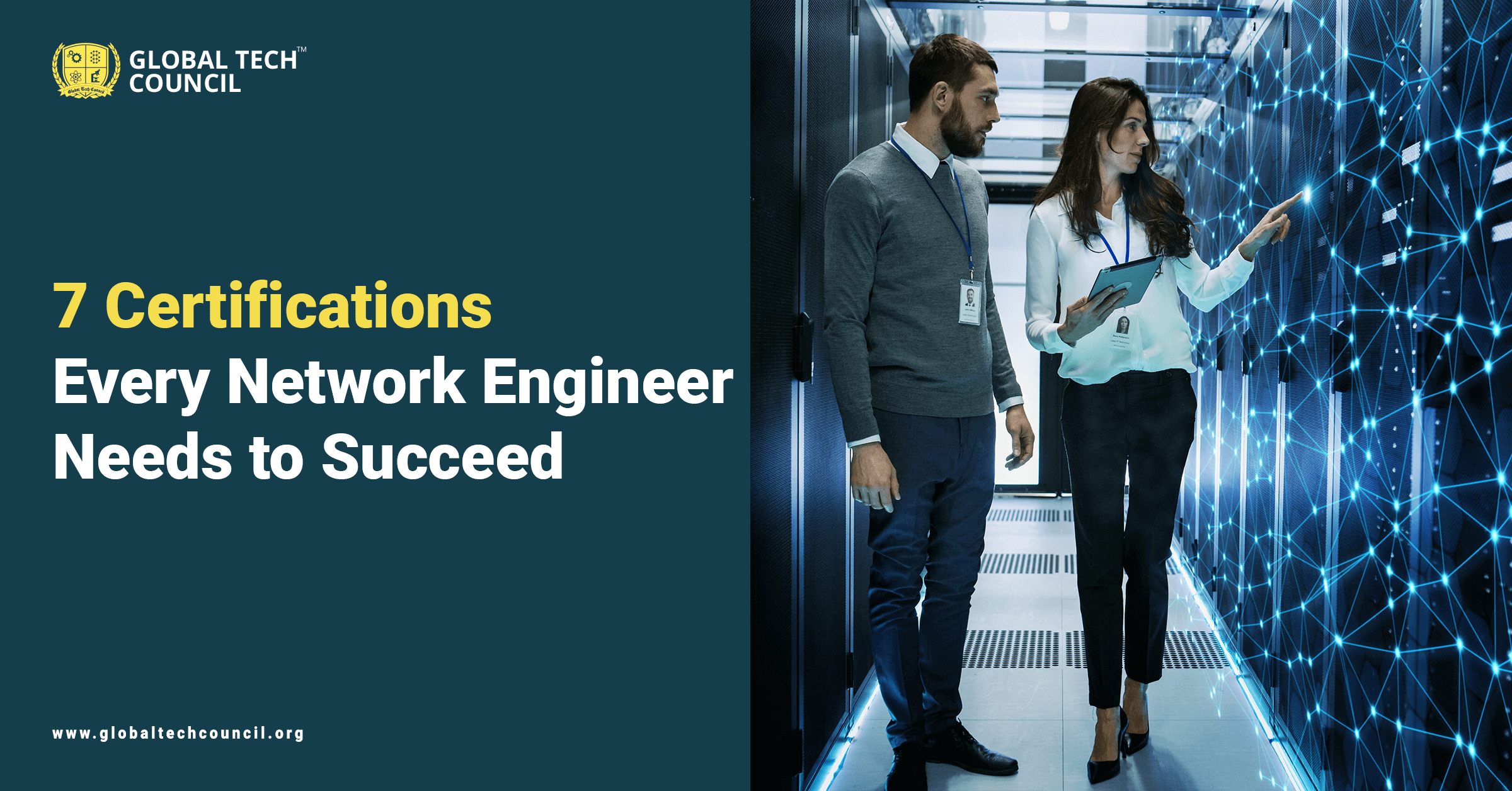 Similar to numerous other career paths in technical industries, becoming a network security engineer implies you will be a forever student. With the evaluation of the technology, you will need to stay updated and keep up with the latest expertise requirements. Hence to do so, the best way is to earn certification in the respective areas. However, not every complementary tech certifications hold the same worth. So here we bring you the 7 best network security certifications that every network security professional needs to succeed.
But first, let us start with understanding the job role of a network engineer.
What does a network engineer do?
As a network engineer, an individual is liable to set up, develop, organize and manage computer networks within an organization or among different organizations. Further, the individual has to be upfront for supporting users, including clients, staff, members, suppliers, or customers. Basically, they have all the responsibility to troubleshoot the issue if it arises in the area. Luckily, today you can easily find reliable network security training programs that can help you to sharpen all the skills that the job role demands.
The list of top 7 certifications that network engineers require to succeed
Wireshark Network Analyst
One of the most potent troubleshooting and network analysis tools is the Wireshark Network Analyst certification course. And to prove your expertise in the field, it is worth being certified by Wireshark. Moreover, this particular certification is popular among 90 countries across the world.
Furthermore, you can take advantage of certification for three whole years as it is valid for this time limit only. However, you need to pass the written exam first. Also, you can expect the examination to cover the prominent topic areas of Wireshark functionality which includes network security and troubleshooting, TCP/IP network communications.
SolarWinds Certified Professional
The SCP certification enables students to sharpen their proficiency in network and system management empowered by SolarWinds. Furthermore, once you get the respective network security training, your employer receives the assurance that you have strong technical skills and knowledge. Usually, certification focuses on training you for skills that are generally essential in this career path as well as in SolarWinds.
Like most of the network security certifications, SolarWinds is also applicable for 3 years. However, due to the popularity of this certification and Solarwinds being leading providers of networking, IT, and cloud solutions globally, you can immediately receive good opportunities by putting out your SCP certificate in the industry.
AWS Certified Advanced Networking
The networking certificate believes in training its students with all the latest networking and technical concepts. Further, it covers cloud computing, SDN, and visualization. Moreover, there is a high probability that your potential employer is currently using numerous AWS services quite frequently. And even if they are not using them, having these network engineer training certificates can make you a valuable asset to the company.
The certificate validation is up to 3 years. However, you can extend its validity using the platform's recertification service.
VMware Certified Professional – Network Virtualization
It is known to be one of the top certificates in a field that one can obtain for specializing in the space of visualization concerning networking and IT.
With this certificate, you will be able to prove your capability to perform the process of installation, configuration, and administration of virtual networks for your employer company with different forms of underlying physical infrastructure.
Furthermore, this certification holds validation for up to 2 years.
Certified Wireless Network Administrator
This certification is suitable for people who do not want to have expertise in network vendors like Google and Amazon. Instead, this network engineer training is an entry-level certification that offers you a vendor-neutral approach specialization in networking.
Counting from the examination date, the certification is valid for 3 years. Further, the certification tests your knowledge in a number of wireless networks and communication, including network security and troubleshooting, network management and design, and radiofrequency technology.
Microsoft Technology Associate
The certification approaches training on many technical fundamentals. However, if you want to have an MTS certificate, you need to have good experience of working with numerous programming languages. Some of these languages include Python, HTML5, and JavaScript. Apart from this, you also need to have a background in security and development, networking, and operating systems.
The certification is valid for five whole years from the date of examination.
Cisco Certified Network Associate
It is a type of umbrella certification that includes multiple individual certificates that the platform offers. With the existing Cisco CNA courses, you will be able to analyze your knowledge in network fundamentals services and IP connectivity. Additionally, it will also test your knowledge of automation and security fundamentals.
The certification has a validity of three years.
Conclusion
The technological space is massive, and even if you try to only focus on network engineering, you will still find it to be remarkably big.
However, when you are just beginning your journey in this field, it is impossible to have knowledge of everything all at once. Also your seniors and employers will not expect you to have the same. Hence, you should opt for certification that helps you to learn the specific skill set that your potential employer requires.
To continue receiving updates on the tech world, follow the GLOBAL TECH COUNCIL. Additionally, you can also explore multiple certifications that you might be looking for on the platform.