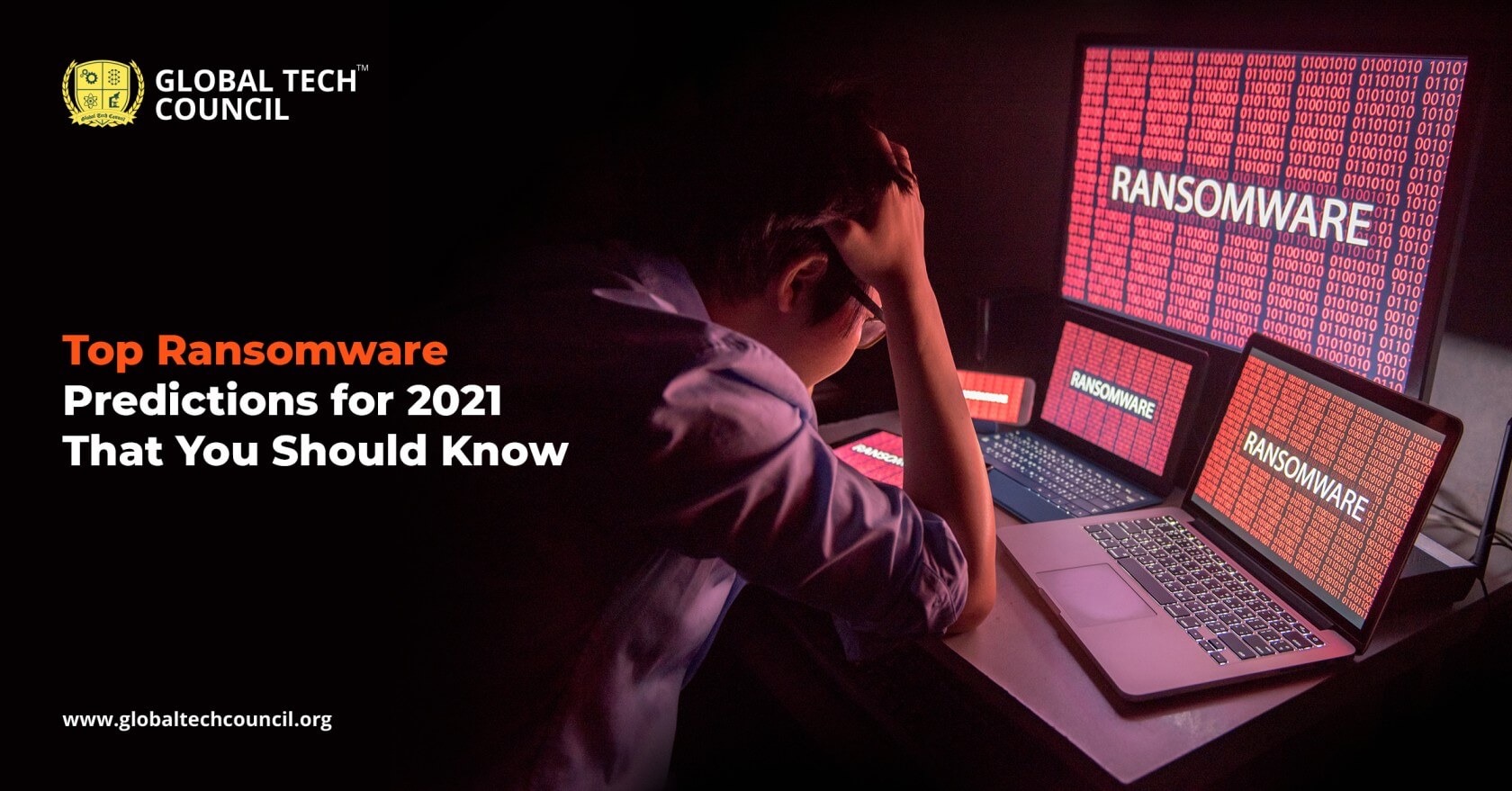 As ransomware attacks continue to rise exponentially, here are its top predictions for 2021 that you should know.
Table of Contents
What Exactly is Ransomware?
Top Predictions Related to Ransomware this Year
Concluding Lines
What Exactly is Ransomware?
Ransomware is considered to be one of the most common types of cyberattacks that an enterprise can face. It is a kind of malware that uses encryption to hold a victim's data at ransom.
In other words, it prevents users from accessing their own system, which is done either by locking the system's screen or by locking the users' files until a ransom is paid.
Top Predictions Related to Ransomware this Year
Healthcare Will Be Targeted The Most
According to RSA security executives, information related to healthcare data sells for a range between $100 and $500 on the dark web. In September 2020, it was announced that the healthcare giant in the U.S., Universal Health Services(UHS), had been hit by a ransomware attack. It is predicted that such threats will extend from hospitals and medical dispensaries to research organizations scrambling to develop new treatments. In addition, Druva CIO and CISO Drew Daniels believe that this year ransomware will be targeting pharmaceutical research laboratories and biotechnology companies as they will likely store the patient data that is being examined to create a vaccine. As almost the entire globe is dealing with the COVID-19 pandemic and cyber-criminals never miss an opportunity to exploit a disaster, the healthcare domain is expected to be the most targeted one.
Ransomware Payments Will Become Illegal
As we already mentioned, ransomware is a form of malware that encrypts a user's computer files until a ransom is paid.
However, the U.S. Department of the Treasury's Office of Foreign Assets Control (OFAC) announced that paying the ransom is prohibited; it is still legal in many areas. Thus, it is expected that other nations will follow suit, thus restricting and discouraging attackers from continuing to develop more sophisticated attack vectors.
Ransomware Damage Costs to Grow Exponentially
In 2017, Cybersecurity Ventures advised that ransomware damages would cost $5 billion, a surge from $325 million in 2015. In 2018, the damage was predicted to reach $8 billion, and for 2019 it is $11.5 billion. By 2021, it is expected that Global ransomware damage costs are predicted to reach $20 billion this year. This rate is 57 times more than it was back in the year 2015, making ransomware the fastest growing type of cybercrime. Apart from damage costs, Cybersecurity Ventures also predicts that an organization will become a victim of ransomware attack every 11 seconds by 2021.
To counter the upsurging rate of ransomware threats, companies are needing skilled Cybersecurity Professionals. If you want to become one, get started today with Global Tech Council.
Cyber Criminals Will Focus Attacks on Manufacturing Organizations
According to a report from industrial cybersecurity company Dragos, ransomware attacks on manufacturing entities were more than tripled in 2020 compared to 2019. Pat Moran, a PwC cybersecurity leader, said that the effect of ransomware attacks on infrastructure networks could go way beyond financial damage, causing supply-chain problems and even physical risk.
In 2021, it is expected that manufacturing organizations will continue to suffer from ransomware attacks as these organizations are built on I.T. infrastructure that relies massively on networks of communication with suppliers. Thus such internet-enabled networks extend their vulnerability and make them easier targets.
As cyber-criminals continue to find the most outrageous methods of extorting their victims, there is an increasing demand for cybersecurity professionals. If you intend to become one, check out Global Tech Council.
Concluding Lines
It won't be surprising that ransomware may evolve in terms of its potential. Such infrastructures could be critical not only for business operations but for the entire world. It is also possible that cybercriminals might soon further develop attacks on industrial control systems (ICSs) and other critical infrastructures to paralyze not just networks but the entire ecosystem as a whole.
As ransomware campaigns are already practicing on high-profile, there is an urgent demand for skilled cybersecurity experts who can manage cyber risk and implement the proper security controls.
If the domain of cybersecurity interests you, you can get enrolled in Global Tech Council and become a Certified Cybersecurity Professional.