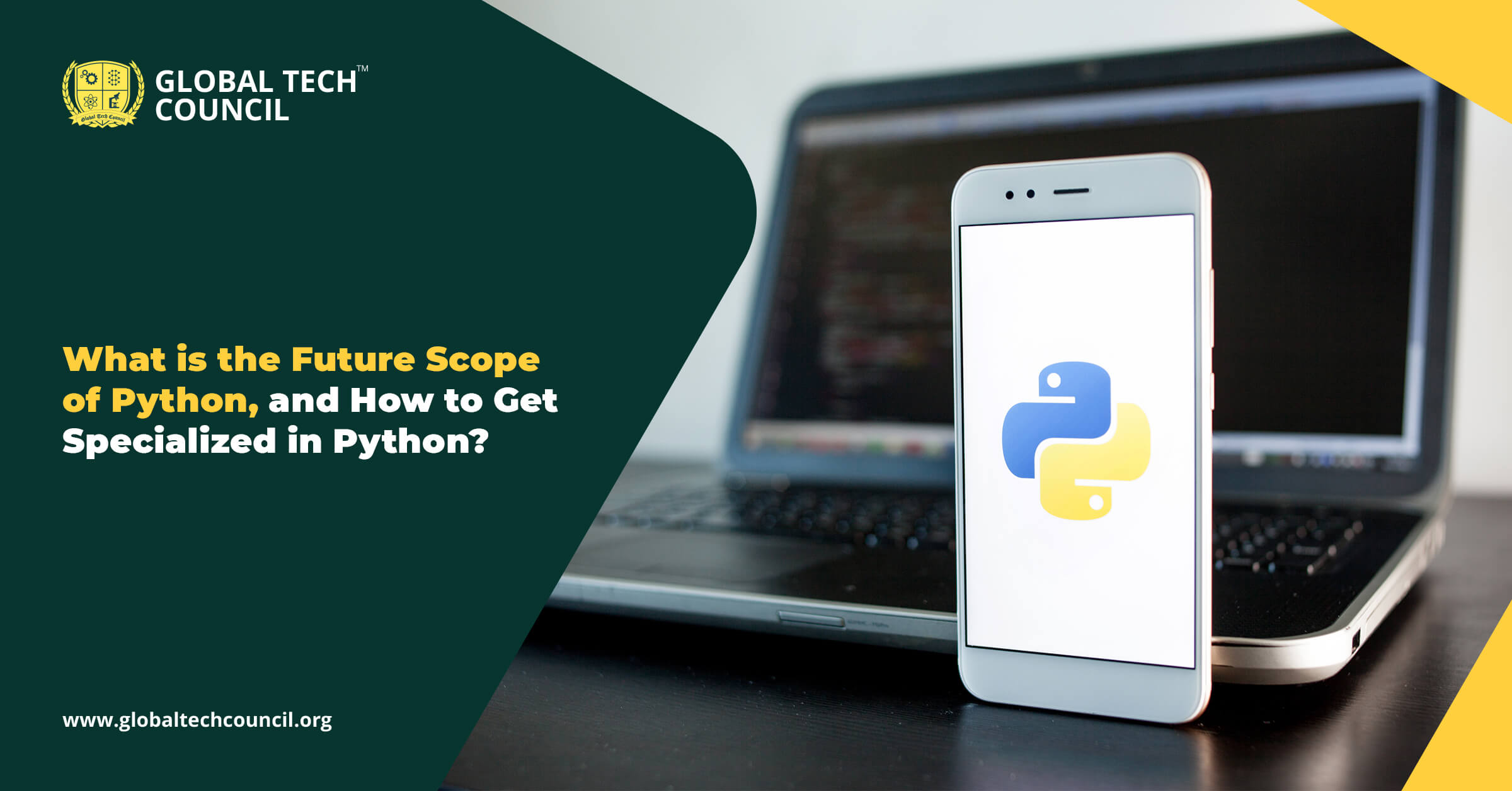 Confused about whether to learn Python or not? Wondering what are the benefits of learning it? What is its future scope? Well, this article has got you covered.
Table of Contents
Introduction
Future Technologies Counting On Python
Immense Career Opportunities for Freshers and Experienced
Top Organizations Using Python Language
How to Get Specialized in Python?
Introduction
Python is an open-source programming language and supports multi-program paradigms. It is a language that has simple codes and faster readability capacity. As a result, the total implementation time for the project code is reduced. It comes with a variety of libraries and APIs that help with data processing, visualization, and manipulation.
Today, tech giants and even government institutions are looking for skilled Python developers for their companies, indicating their huge demand in the market.
If this domain interests you, you can get enrolled in Global Tech Council and learn Python from python crash course.
Future Technologies Counting On Python
If you are a technocrat, you must have heard that Python is widely used for web development, application development, games development games, and many other purposes.
Not only this, futuristic technologies that are making a lot of noise in the marketplace these days are also relying on this programming language.
Artificial Intelligence: The future of this programming language can also be predicted by how it has helped and still helps AI technology.
Several Python frameworks, libraries, and tools are mainly developed to direct AI to overcome human efforts with enhanced efficiency for various development purposes.
Big Data: Apart from AI technology, the programming language has been successfully contributing in the domain of Big Data to analyze a large number of data sets with the help of its high-performance toolkits and libraries.
Networking: In networking, Python can be utilized for several purposes, such as reading, writing, and configuring routers and switches and performing several other networking automation tasks that are too cost-effective and secure, indicating that it holds a brighter scope and a brighter scope.
Immense Career Opportunities for Freshers and Experienced
When it comes to career opportunities, there are endless job options for both freshers and experienced candidates. If you are one of those who is looking for such career opportunities in this domain, all you have to do is learn and develop the required skill sets.
According to Indeed.com, the average salary for a python developer in the US in 2021 is $110,840 per year, and those of an entry-level developer is $85,999. Daxx.com reports that the salary in New York is $126,798. For a rewarding career, you can go for advanced certification courses in Python.
Top Organizations Using Python Language
The way top organizations and enterprises are using Python indicates that it is the most popular and widely used language and holds a vast scope in the future.
NASA, Google that needs no introduction, Nokia(popular vendor of mobile phones), Red-Hat(multinational computer software company based in the United States), IBM (American-based multinational computer manufacturing company), Walt Disney Feature Animation, Yahoo, and many others are relying on this programming language for their varying purposes. Such adoption indicates that more and more emerging companies will rely on Python, creating tremendous job opportunities for Python Developers.
How to Get Specialized in Python?
If you are looking for career opportunities in this domain, there are ample of them. You can either choose to become a Python Developer, a Software Engineer, Data Analyst, Software Developer, or a DevOps Engineer. Apart from these, there is an opportunity to become a Product Manager or a Machine Learning Engineer as well. But in order to become one, please remember that skillset is your weapon. If you have better skills, you can land a better position and a better salary, of course.
If you are eager to learn this programming language and become a developer, you can enroll in online professional certification courses that offer online training from very basic to advanced. The best part about such python programming certifications is that it sets you apart from the rest of the crowd and undoubtedly increases your earning potential.
One such online organization is Global Tech Council that offers numerous certifications specially designed for aspirants intending to make a career in futuristic technologies. Learning from this platform will render the required in-depth knowledge of the core concepts of Python along with hands-on experience and will prove to be the gateway to a lucrative career in numerous domains.
If you want to learn Python and showcase your skills, you can get enrolled in Global Tech Council.