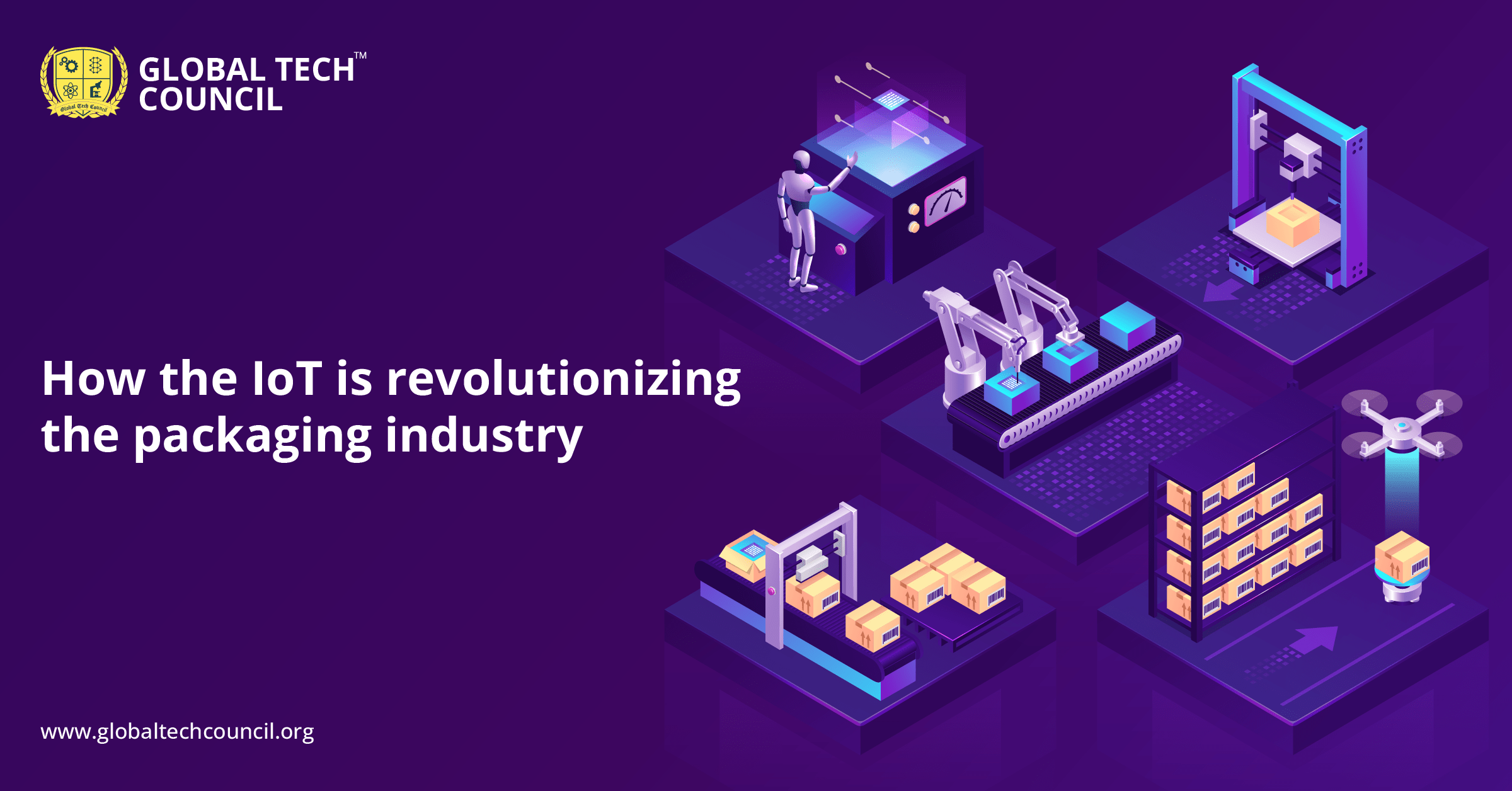 The Internet of things has been bringing in a lot of genius innovations in the field of technology. It's enabling the establishment of smart homes to connect various devices in one network for timely reports and updates. The technology seems to spread its application in many other new sectors. Due to its widespread adoption, industries are seeking individuals with robust IoT training certification to scale up their business operations. One of them is the packaging industry. Due to IoT implementation in the packaging process today, there's an availability of smart or intelligent packaging. And this advancement in packaging has been seen to influence customers in a positive manner. 
So, if you want to become an Internet of Things expert, then make sure to complete appropriate certifications relevant to the field.
What is smart packaging?
IoT has enabled smart packaging, but what is it in actuality? Smart packaging refers to the use of material that embeds a direct interconnectedness. Thus, it allows the packaging material to share its information directly.
Furthermore, smart packaging enables customers to interact with it to access data such as how-to guides, recipe-making tutorials, etc. Basically, it provides useful information to help customers utilize the product in the best way possible. More so, IoT leverages multiple techs like QR codes, AR, and VR to make packaging and IoT work together in a more efficient way.
It maximizes the value for both marketers and consumers. However, if you want to learn more about the topic, then we advise you to take up the IoT training certification.
What are the best ways to utilize smart packaging?
● Real-Time Offers and Coupons:
Smart packaging allows brands to add or replace the content in real-time as per requirements. Hence, when a good isn't able to fulfill the sales expectations, companies then embed exciting offers on the purchase of such products. For example, cashback coupons, buy one get one offer, etc. Here, consumers can get updates on the latest offers just by scanning the codes.
● Tampering Sensors:
Smart packaging can register information about whether there has been any temperament with the packaging. Also, it can even tell if somebody opened it earlier.
● Authentication:
The scanner can detect the credibility of the products through the placement of microchips within them. Thus, it can be highly useful for businesses that often face the problems of fake product supplies. Moreover, big brands like Channel, Levi's, MK, and others already use the technology to perform smart packaging. As per the Internet of Things expert team, smart packing has the potential to secure the reputation of the brands.
● Reorder Triggers:
Smart packaging powered by IoT enables customers and marketers to record items when they are running low in stocks. For this, usually, the system connects with the self-stock data. However, another way to attain this is by embedding triggers on the items themselves. Thus, the system can perform automatic product availability recording. Due to this facility, consumers get aware of any current stock of products of their choice; hence there'll be no anticipation of not ordering essential products on time.
● Logs tracking:
Smart products tend to maintain a digital footprint across each of their steps, including production to retail. With the help of log tracking, users can examine the entire journey of a product. For example, places it has been and who handled it, at what time, etc. Due to this, businesses can detect any issues or errors more quickly and efficiently across the supply chain.
● Use of Temperature Sensors:
Many marketers export and import perishable items that are sensitive to their surroundings. By embedding NFC stickers along with the temperature sensors, users can get updates on any kinds of changes. Hence, consumers can know whether the product was taken care of properly with appropriate temperatures through product scans.
● Digital Labels:
With the implication of digital labels or e-label, customers can quickly get the needed data about the product right away. Further, with the help of triggers like QR codes, consumers can access precise product-related content.
To learn more applications of IoT-powered techs in the space of the packaging industry, you can opt for the Internet of things certification. With a reputable certification, you will not only learn the importance of IoT in the packaging industry but also in automobiles, smart cities, official works, etc.
What is the future of the packaging industry and IoT?
Below are a given some of the IoT related predictions for the manufacturing and packaging industry:
● As per a report from GE, By 2030, IoT can contribute up to 10-15 trillion USD to global GDP. As per the Internet of things expert team, simultaneous workings of machines and the Internet can remove the waste worth 150 billion USD across significant industries. We can say that this approach has the potential to revolutionize productivity.
Other reports suggest that by the year 2025, for the warehouse management market, global IoT can raise 19.06 billion USD worth.
Moreover, the retailer community is more optimistic about implementing IoT in the supply chain mechanism. Thus, by the wide adoption of IoT by retailers, the development of inventory management and automation technology will see a significant boost.
Moreover, 43% of consumers are likely to share their personal information with brands to receive offers and recommendations as per their interest. Through personalization, the brands can offer customers the kinds of products or services they are willing to buy sooner or later.
Conclusion
Internet of Things is a futuristic advancement that enhances other tech and machines to create a more efficient operational framework. Though IoT has been benefiting various sectors, smart packaging has marked its remarkable value. It is so because it not only brings advantages to brands but has also given a heightened convenience to ordinary buyers.
To learn more about the topic and where to enrol into the best IoT certifications, give a visit to the GLOBAL TECH COUNCIL.