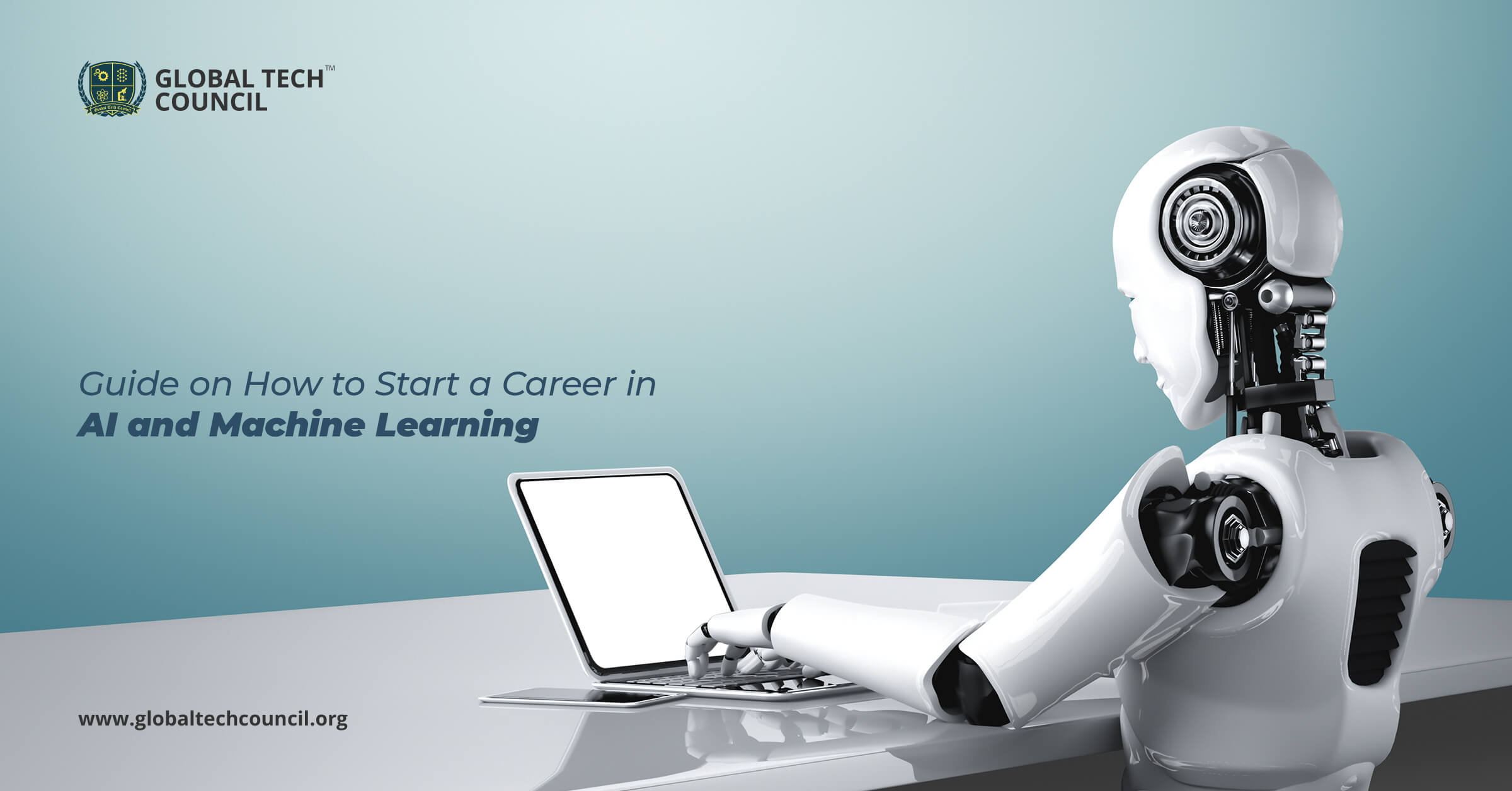 Curious to know how to start a career in AI and ML space but don't know where to start? Well, we have got you covered! This article talks about crucial steps to follow to start a career in this domain.
Table of Contents
Introduction to AI and ML
Crucial Steps to Follow to Start a Career in AI
Concluding Lines
Introduction to AI and ML
Artificial Intelligence(AI) can be defined as an area under computer science, a simulated version of human intelligence processes by computer systems.
Machine Learning, on the other hand, is an application of AI, where machines can learn by themselves without being explicitly programmed. As this technology is a subset of AI, it enables systems to learn and improve automatically. It makes software applications more accurate and precise in predicting outcomes.
At present, these are the most innovative technologies that are emerging and positively transforming almost every sector, including logistics, manufacturing, e-commerce, education, finance department, healthcare, asset management, and many others.
Are you looking for AI/ML certification courses? Check out the Global Tech Council now!
Crucial Steps to Follow to Start a Career in AI
As we have learned what AI and ML actually are, let's explore steps that one should follow in order to start a career in this domain.
Understand the Skills Required
If you are looking to start a career in this domain, it is crucial to understand the basis of AI, such as what AI is, what are intelligent agents, what are its advantages and disadvantages, and what challenges are. Also, you must have a closer look at the technical and business skills you need to master.
You must master:
Technical skills such as programming languages like R, Python, Java, and C++
Learn statistics, linear algebra, and calculus in order to understand how algorithms and machine learning function.
Understand neural networks since they've been shown to be the most effective way to solve problems like voice recognition, image processing, and translation.
Go for Professional Course
A sure-shot way to enter an industry as a skilled professional is to take professional training and go for a certification course. Such training delivers fundamental concepts and mathematical background related to AI and ML and their optimization techniques in real-time, making individuals industry-ready.
Best Certification Courses to Consider
Certified AI Expert
This certification is specially crafted by experts in AI and covers questions from basic concepts to the very core. Certified AI Expert training is an expertly curated and excellently designed training, rendering profound knowledge on various aspects of AI.
Certified AI Developer
This certification helps individuals in developing software for systems and robots. The course also helps AI developers in developing operating software and AI applications and programs.
Certified ML Expert
Certified Machine Learning Expert certification training is designed to help you become an expert in machine learning. It will equip you with the most effective machine learning techniques, data mining, statistical pattern recognition, etc. The material includes not only theoretical knowledge but also the practical know-how of applying it to tackle situations.
Know Specific Jobs in AI
Once you decide to take your career in this space, do not forget to explore all the job roles available in the market. Some of the leading career opportunities are as follows:
Big Data Engineer
Business Intelligence Developer
Data Scientist
Machine Learning Engineer
Research Scientist
AI Data Analyst
Product Manager
AI Engineer/Developer
Robotics Scientist
It is always advisable to choose your career wisely based on your interest and ambition.
Attend Webinars, Events, and Conferences
If you are thinking of a career in the AI/ML space, attending free and paid webinars can prove to be really beneficial. Such webinars can provide an introduction to the world of AI and ML, explains functional and business knowledge related to these technologies, and, most importantly, keeps you up-to-date regarding the latest versions and announcements taking place. Along with that, participating in events and conferences can help you develop your industry knowledge as senior industry leaders as technology enthusiasts worldwide gather at events and conferences.
Concluding Lines
In today's fast-changing economy, these innovations are poised to be a major driver of transformation, innovation, and competitive advantage. According to PwC's Global Artificial Intelligence Report, AI could add up to $15.7 trillion to the global economy by 2030, more than China and India's current production combined. AI experts and other technocrats assume that advances in these technologies will reach the superintelligence stage in the years to come.
If the domain of AI and ML interests you, you can check out the best AI and ML Certification courses at Global Tech Council.