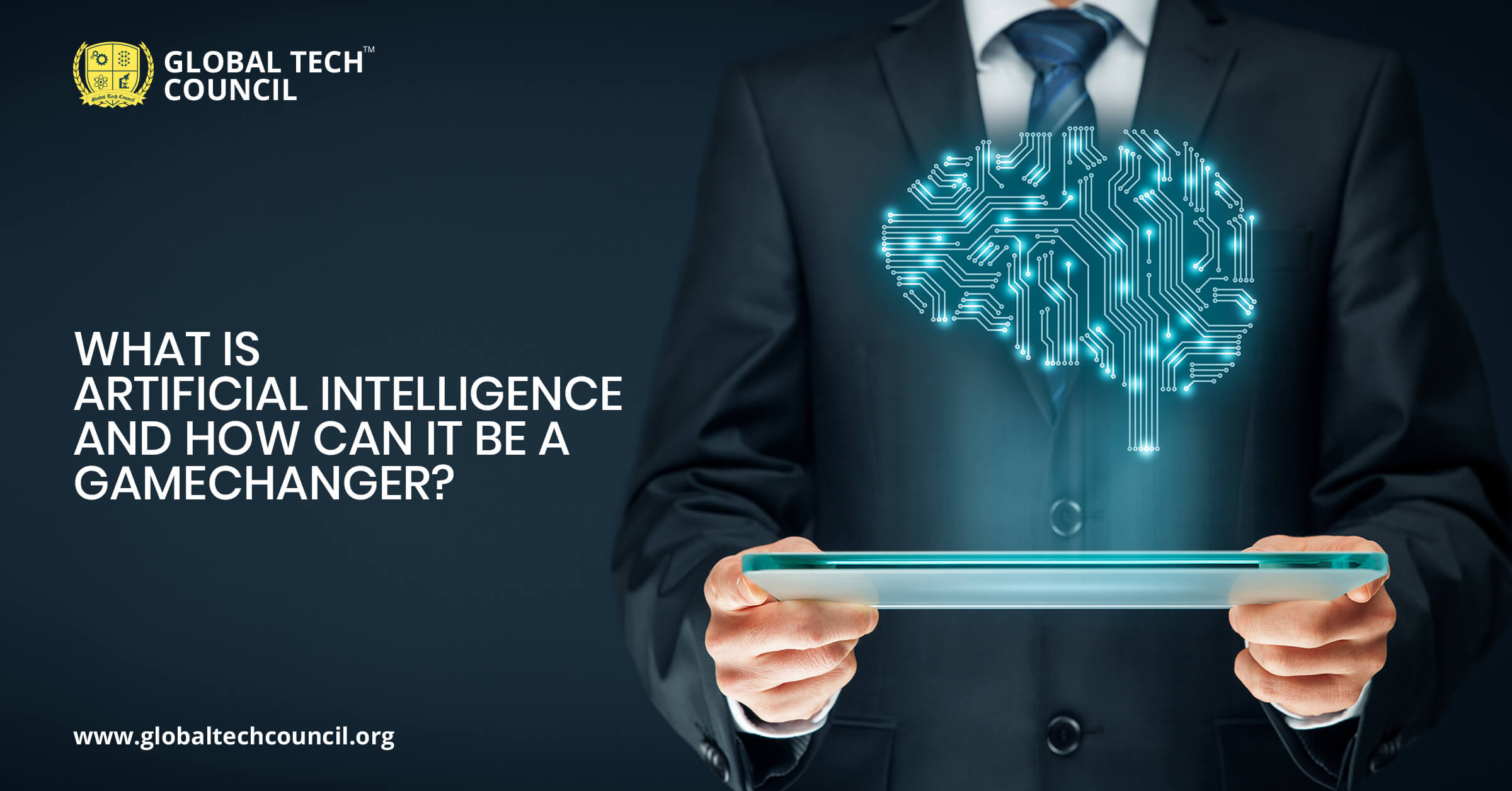 Our world is depending more on technology than ever. Much new technology is evolving the world. More gadgets and applications are released every single day based on new technologies. All these gadgets and applications offer us more efficiency, easy use, ease of working, and time-saving options. Artificial intelligence is the new age technology that enables machines to think on their own. As per artificial intelligence experts, this technology will overgrow in the future. Artificial intelligence certification courses or AI certification courses are already in full bloom. Artificial intelligence opens a whole new world for machines.
What is artificial intelligence:
Artificial Intelligence, abbreviated as AI, is the 21st century subject of technology. It is the simulation of the human intelligence process used by machines. It gives machines the power of intelligence. Artificial intelligence is the main reason behind innovative applications of intelligent machines development. Devices with the help of artificial intelligence can think of their own. They can also make decisions and act with their intelligence. In robotics, artificial intelligence is becoming the most crucial element. AI developers develop intelligent, innovative, and futuristic machines and robots with the help of AI.
How can it be a game-changer:
There are several reasons which indicate that artificial intelligence can be a game-changer. The main factors are,
Multi usability:
At present, artificial intelligence is vastly used in different fields. These are,
Educational institute:
Artificial intelligence is becoming an essential future subject. And the educational institute is marketing its courses with the help of AI. Many subjects which have some parts of AI are becoming very popular. Like ML, robotics and neural networking have the basic or some part of artificial intelligence. Some programming languages like Python, R, and Java are also getting popular with the help of artificial intelligence. These languages are helpful to write codes for artificial intelligence. Artificial intelligence is helping all these courses to get more popular and more functional. AI developer, AI certification, or artificial intelligence certification courses themselves are getting popular. Computer science students are totally into it.
Gadgets:
Artificial intelligence makes nonliving machines intelligent and smart. So many organizations are making gadgets that enable artificial intelligence. These gadgets are getting popular in a short time. Innovative home security systems, smart pet feeders, smart home cleaners are some popular gadgets that are AI-enabled. The smart home system, like Google Nests or Alexa, is also the product of artificial intelligence. And there is no need to state their popularity and market share. These smart gadgets come with more efficiency, easy-to-use facility, and time-saving features. So people are choosing these smart gadgets more than anything else. And companies are busy making more smart gadgets like smart lamps, smart fans, smart everything. The smart home market will touch 84.5 billion dollars in 2021. And artificial intelligence experts expect this market will grow exponentially. So artificial intelligence is in extensive use for new gadget-making purposes.
Robotics:
This century belongs to technology and robots. Developers are developing smart robots that can work just like humans. For this, artificial intelligence is the most important thing. Without artificial intelligence, robots cannot be smart, and cannot work as a human. Artificial intelligence gives the robot intelligence, thinking power, decision-making power.
Agriculture:
Agricultural models based on AI can provide important information about the weather. And this can help to analyze the weather, predict the weather conditions. Artificial intelligence models can also detect deficiencies in the crop and can also explore the soil. The information about the crop and soil can help farmers to grow better crops. And help them to harvest and produce better.
Healthcare:
The health care systems get significant positive change because of artificial intelligence. Robotic surgeons, early detection of the symptoms of diseases are the most remarkable examples. Alerting patients to get their medicine on time also becomes possible for AI. Many other positive changes are also becoming possible because of artificial intelligence.
Benefits of artificial intelligence:
There are many benefits of artificial intelligence. Some of them are,
The smart and quick decision-making system
Eliminate human error and make production error-free
Enhance customer engagement with the help of artificial intelligence enable chatbots
Develop innovative and intelligent machines which can work for 24*7
It immensely improves cyber security and minimizes external threats. Hence it provides a secure and protected network.
Provide automatic service wherever and whenever needed
All these benefits make artificial intelligence a favorite technology of developers as well as users.
Job scope:
Artificial intelligence offers great job opportunities to job seekers. Big data engineers, business intelligence developers, ML engineers, AI developers all depend on AI. It gives a good job opportunity with a good salary package. So artificial intelligence is becoming a favorite for students as well.
Future scope of artificial intelligence:
There is a tremendous future scope for artificial intelligence. It will become more vastly used and will create more job opportunities in this field. It will help developers to innovate more cutting-edge technology in the near future. As per Markets, the global AI market may hit 309.6 billion dollar market capitalization. 39.7 percent growth can make artificial intelligence the topmost technology for the future.
All these aspects indicate the vast popularity and importance of artificial intelligence. So we can clearly state that artificial intelligence can be the game changer technology for the future. The future belongs to automation, and the future belongs to artificial intelligence.
Conclusion:
We are living in the technological era. Many technologies are in the mainstream, but AI is becoming the most important one. AI can reshape the future. It has huge potential and more development needs in this field for more advancement. So it is a good time for students to do AI certification or artificial intelligence certification courses and get a good job. Artificial intelligence will be more important in the future.