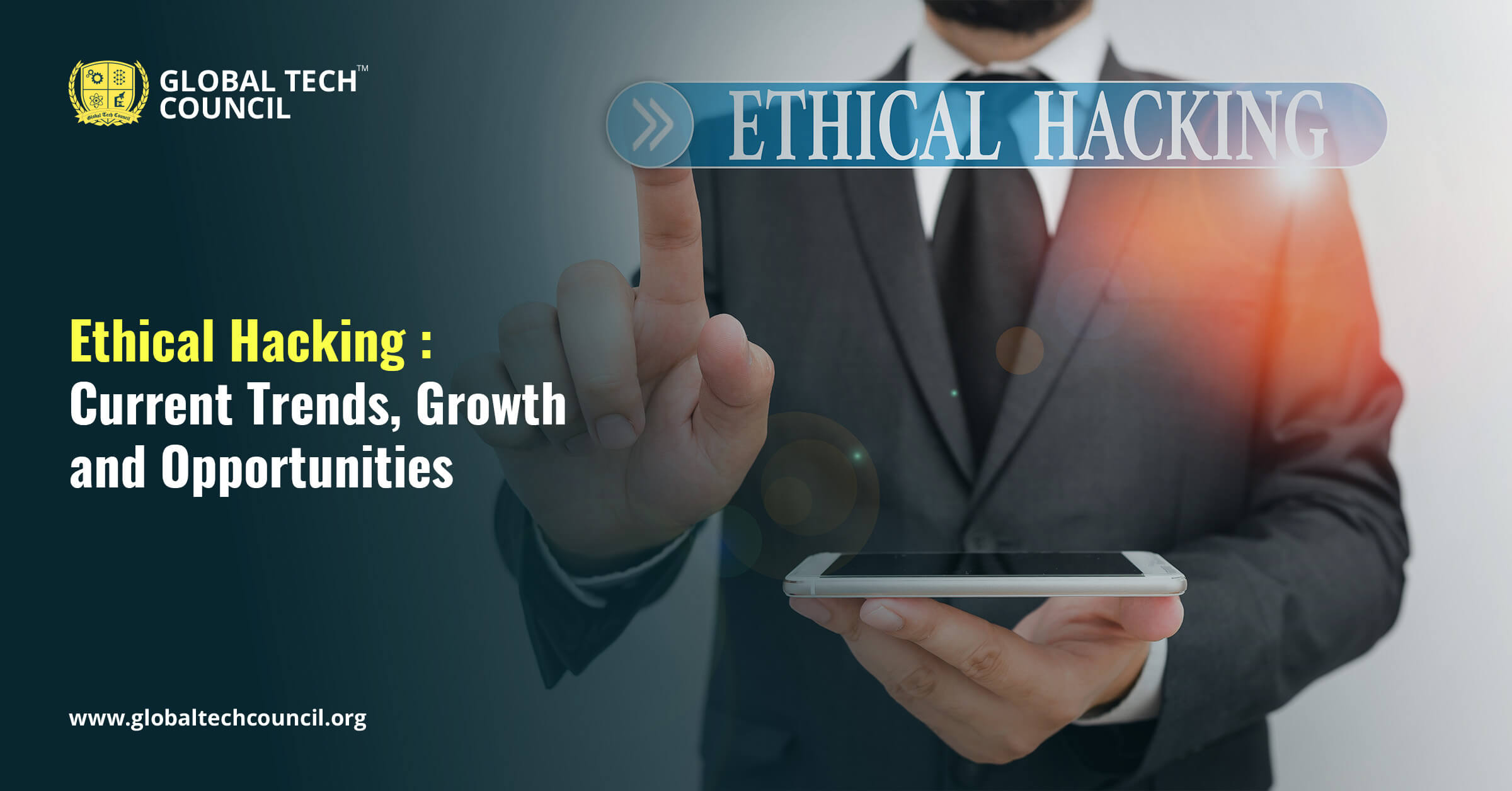 Remember 2019's Capital One Cyberattack? One of the most significant budgetary company cyber attacks in history, with 105 million active members involved. After that, the unauthorized access of data in Ecuador leaked the personal information of almost 18 million residents. Another great example is the outbreak of ransomware malware attacks against Texas' 23 local government bodies, which costs about $12 million. So, in this article, we will cover some of the notable upcoming trends in the ethical hacking segment.
Top Ethical Hacking Trends, Growth & Opportunities:
Cloud Computing is highlighted-
Analysis to Reduce Cyber Attacks by Automating Processes-
Increasing cyber-attacks on small businesses-
Artificial intelligence as a Protector and Assaulter-
White Hat Hacker Certification-
Government Requirements-
Healthcare jobs-
Consultancy Company
Future Growth of Ethical Hackers
Conclusion
All the cyberattacks emphasize the need for employing cybersecurity expert. Ethical or licensed hackers are security specialists who may breach a firm's security architecture to detect present and potential weaknesses and develop preventive tactics to avoid malicious attacks from exploiting the situation. Data is a vital asset in this internet world that everyone, including businesses, should be concerned about protecting. And that is when ethical hackers join an organization to strengthen the data protection system. 
Top Ethical Hacking Trends, Growth & Opportunities:
Unlawful network invaders are constantly improving their methods. Black hat hackers are presently conducting more than 250 cyber attacks all across the globe. Certified ethical hacker courses are constantly upgrading with the most innovative cybersecurity tactics to provide white hat hackers with the essential knowledge and skills.
Cloud Computing is highlighted-
In present days every company and organization's data is migrated to the cloud, legal hackers have moved their concentration to numerous cyber assaults against the cloud computing environment. Therefore, the necessity for safeguarding such information has prioritized the use of pen testing procedures. Through this test, one can quickly identify any threats in cloud computing before getting hacked.
Analysis to Reduce Cyber Attacks by Automating Processes-
Unlawful hackings are growing day by day. To cope up with them, Robotic Process Automation or RPA is introduced in the market. The primary purpose of this automation is to cover up a larger area of cybersecurity, which consists of incident detection, proper analysis, and immediate response. Recognizing its potential, businesses have begun to automate cybersecurity, removing the risk of human mistakes from time-consuming manual labor.
Increasing cyber-attacks on small businesses-
All of the trends focus on digital information, and we believe that digital data encryption can significantly lower the threat of hacking. To boost protection, all cloud service providers are beginning to provide strong encryption for data and control.
With the evolution of internet change, cybersecurity is no more a choice but a must. SMBs are simpler to assault these days since they may lack proper protection features and money to defend their businesses. As a result, small firms and people will be attacked more frequently.
Artificial intelligence as a Protector and Assaulter-
In the field of cybersecurity, artificial intelligence (AI) is gaining a leading position, with the capacity to detect and react appropriately to malicious activity in no time. AI can filter through and analyze data to determine whether risks are legitimate.
Nevertheless, there is a drawback to artificial intelligence and machine learning's apparent advantages. The black hat coders will use them to perform complex assaults that are impossible to discern. Some of such illegal attacks are AI botnets, phishing, and many more.
White Hat Hacker Certification-
Every sector conducts most of its business online, necessitating an increase in the demand for ethical hackers. There are many well-known organizations where white hat hackers can serve in various professions. It includes the head in charge of information security, information protection specialist, an ethical hacking coach, network security manager, and the chief software security officer.
Government Requirements-
Every nation's government and policymakers have access to a vast amount of sensitive information about its inhabitants and residents. For example, information regarding combat armaments, missile systems, airplanes, radar, and other equipment, as well as preparations to activate them in the event of a national emergency, is highly classified. To safeguard all of this stuff and prevent unauthorized cyber attacks, the government requires ethical hackers.
Healthcare jobs-
Nothing could be more vital to a nation's economy than delivering good treatment to its citizens and safeguarding their personal information. Ethical hackers assist the healthcare market in defending research findings, current medical formulations, and other confidential information.
Consultancy Company –
A group of white hat hackers could work autonomously and form qualified consultancies to give businesses the necessary ethical hacking information. Organizations that do not employ ethical hackers use these facilities to have their systems examined and problems detected.
Future Growth of Ethical Hackers
Like some other computer and system security professions, cybersecurity professionals are in great demand, and that need is only growing as the complexity and expense of cyber attacks rises. However, the work of a certified hacker is quite tricky. They assist businesses in identifying potential security flaws in their networks and defending them against the growing cyber-attacks. In addition, they are supposed to meticulously report all processes required to detect a system's weaknesses.
Conclusion
Nearly every sector is looking to recruit ethical hackers to ensure their data is safe and secure from any vulnerabilities. For getting yourself hired as a professional, ethical hacker, you must undergo ethical hacking certification training. If you want to make your career in this field, many colleges and courses are available on the internet to provide you with proper ethical hacking training. We would recommend you check out Global Tech Council, and it is one of the best honest hacking certification providers in the industry.