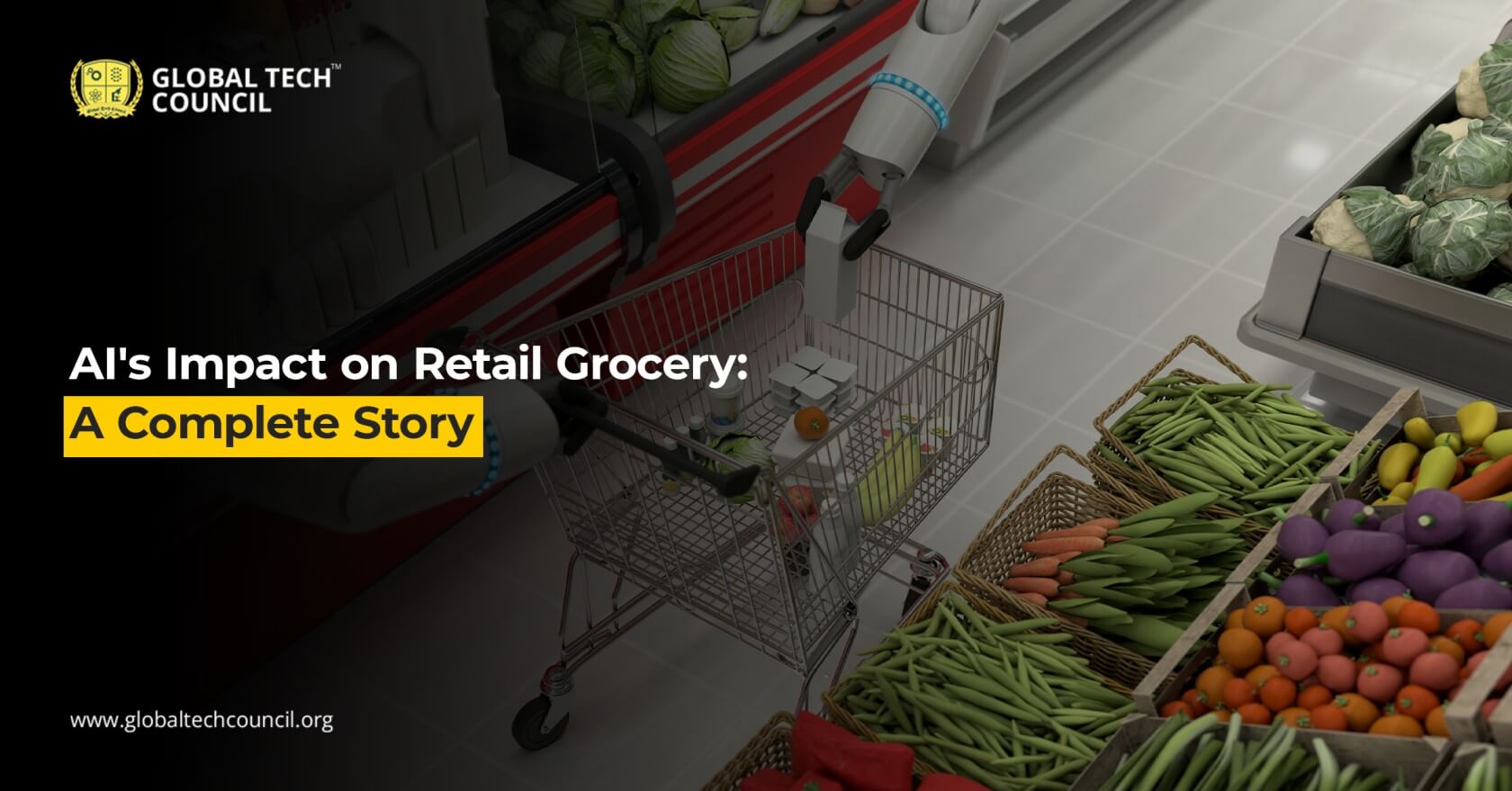 Artificial intelligence has been causing a stir throughout the world for a long time, enabling organizations from a wide range of sectors to take their enterprises to the next level. It's no wonder, however, that this technology is making major strides in the food retail market, assisting grocers in delivering tailored and irreproachable experiences across multiple channels, increasing consumer loyalty, and so on. As it is evident that the AI industry is booming, one of the best approaches for enthusiasts to learn it is by enrolling in the best artificial intelligence course.
Merchants are attempting to provide a richer shopping experience for their shoppers by delivering individualized promos, recommendations, and products in order to promote customer loyalty and provide a seamless experience across channels.
With the quantity of consumer data and product details accessible, there are several data-driven opportunities for grocers to employ machine learning and AI in every business sector. Grocers are moving toward integrating machine learning skills and analytics to better their engagement with customers while tackling some of the major difficulties they encounter.
For all the AI developers out there, this article will show you some convincing use cases if you want to know about grocery sector developments with the aid of AI.
Improving the In-Store Service
Artificial intelligence can help retailers decrease operating costs by automating in-store processes. It can assist people without the need for salespeople in the storefront, reduce queues with self-service payments, replenish stock with real-time stock surveillance, and digitize store environments. It is strongly advised that retailers who want to save time and enhance customer service use AI.
Amazon has unveiled retail technology called Amazon Go and Just Walk Out, which responds when a consumer takes up items from a store rack. By replacing the old sticker prices with sophisticated shelf tags, several technologies have been able to save money.
To Assist With Customer Service by employing Chatbots
Customer connection in omnichannel retail does not begin and stop in a physical shop. Building interactive chat programs with artificial intelligence technologies in retail may easily boost consumer engagement. Chatbots may be a useful tool for interacting with clients. They may answer commonly asked questions, provide product recommendations, resolve customer complaints, and gather vital data from your clients before transferring the call to a telesales representative if necessary. Chatbots may be developed to self-learn from previous data in order to improve and personalize their interactions with clients. Human intelligence cannot match the precision with which AI-powered chatbots manage data and clients.
Price Adjustment Flexibility
Artificial intelligence technologies can give significant information for pricing strategy in a price-sensitive sector like retail. These applications let organizations evaluate the effectiveness of several pricing models before deciding on the ideal price for their products. Seasonal changes, competing for merchandise, and customer demand may all have an impact on how much a business charges. It is undoubtedly a worthwhile investment when we consider the long-term money it may provide.
Logistics And Supply Chain Management That Works
Every year, retailers all across the world lose money owing to improper inventory planning. By analyzing previous sales, geography, buying tendencies, and other factors, AI-enabled logistics management can forecast product demand. We just created AI-powered warehouse drones that can reach tough corners and instantly update a central database with available merchandise in real-time. Artificial intelligence can handle inventory, people, distribution, and delivery in real-time throughout the retail supply chain.
Customer Insights And Personalization
Customers may get a tailored shopping experience using artificial intelligence technologies in retail. Biometric and face recognition technologies can recognize consumers who return to a business and remember their preferences. As a result, they may make product recommendations and create advertising for them. Advanced Artificial intelligence algorithms that analyze demographic data, social networking sites impressions, and data and information can be used to decipher consumer interests. "Brands that develop tailored experiences for clients by integrating modern digital technologies and proprietary data for customers see revenue grow by 6 percent to 10% — two to three times quicker than those that don't," according to a Boston Consulting Group research.
Product Searches with Intelligence
Customers may benefit from artificial intelligence in retail by making product discovery easier. Shoppers may now take a picture of a material they like in person and use it to locate an online retailer that offers it. In seconds, machine learning retail software can detect and label millions of items from a variety of sellers, making product comparison and search easier than ever.
Streamlining the Store-Operation Process
Store operations have become more complicated as a result of multichannel retail. Employees at a warehouse must do a variety of activities. Receiving items, stocking them, and maintaining inventory are no longer their exclusive responsibilities. They are in charge of product information, promotional offer tracking, and marketing. By automating back-office processes and employing robotics for quality checks, AI in retail may make a shop manager's job easier. The time saved may be put to better use for other profitable tasks, resulting in significant time savings in the warehouse.
Product classification using machine learning in retail
Machine Learning-based systems tag items and arrange them into distinct categories for clients looking for a certain type of product. Vendors may just submit an image of the things they wish to sell, and computer vision-based Machine Learning retail software can detect, categorize, and even propose a price. Using Machine Learning Models, the Retail platform can handle numerous requests per second, increasing sales with relevant information.
Artificial Intelligence's Future
Artificial intelligence has the potential to totally revolutionize the retail industry. It provides merchants with a future vision by replacing intuition with knowledge. Business leaders must be realistic when it comes to AI deployment. They must recognize that it is a capital-intensive technology that yields long-term results. To be successful, a corporation must have a long-term AI goal. Starting with little initiatives and aligning them with long-term AI skill sets is the best way ahead.
Global Tech Council is one of the best go-to options to enroll in Artificial intelligence courses. Their courses are designed for folks who like to take up a career in artificial intelligence. These training courses will provide the in-depth knowledge of AI's key ideas that is necessary.